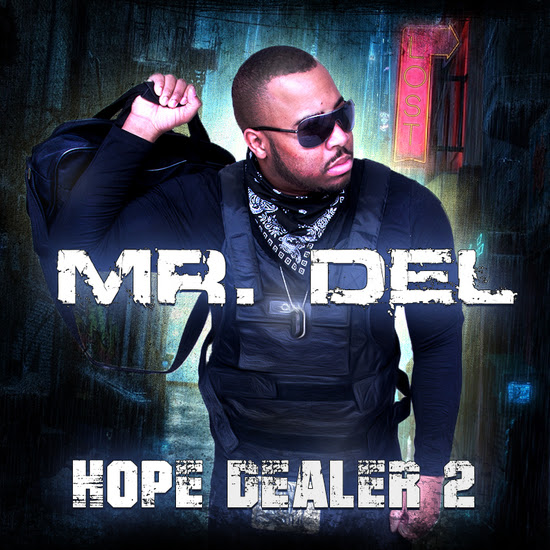 Grammy® and Dove Award Nominated Christian Hip Hop innovator Mr. Del, releases an all new project, HOPE DEALER 2, available on digital music outlets now.  Mr. Del (Delmar Lawrence) is a Memphis-based pastor, author, producer and artist who has been taking the gospel to the streets for over a decade.
Hope Dealer 2 is the anticipated follow up to his 2007 Hope Dealer album which boasted the hits "Oh My God" and "U Can Do It 2".  Mr. Del calls on his ministry and long-time friends and colleagues to collaborate on the 14-track project.  Guest appearances include: Freeway Rick Ross Canton Jones, Uncle Reece, The Gospel Gangtaz, Pettidee, Andale', D-Maub, Still Trill Christians and D. McGhee and more
Mr. Del delivers his signature gritty style on his new single "I'm Living" featuring his mentees Young Memphis.  HOPE DEALER 2 releases on Mr. Del's Urban music label Dedicated Music Group (DMG).
HOPE DEALER 2 Track List:
1. Intro ft. Freeway Rick Ross
2. Godnipulated
3. Harvest ft. Murk & Archangel
4. H'z Up ft. Andale, D-Maub, & Pettidee
5. J-E-S-U-S ft. Murk
6. I'm Ghost ft. Young Memphis
7. I'm Living ft. Young Memphis
8. Itchin' ft. Young Memphis
9. Epidemic ft. Gospel Gangstaz
10. Walking Dead ft. Still Trill Christians
11. Nu Creature ft. Murk & Rod G. Newman
12. Let it Go ft. D. Mcghee
13. When Men Worship ft. Canton Jones & Uncle Reece
14. Game Over