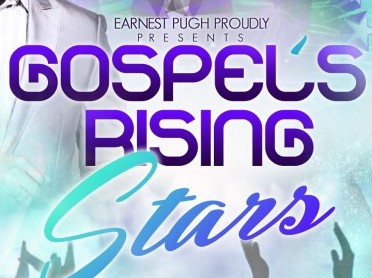 Over the last few years, Gospel's Leading Man Earnest Pugh – who recorded two of the biggest gospel hits of the last decade – his #1 hits "Rain on Us" and "I Need Your Glory" – has also taken a big lead in presenting gospel music's next generation of stars such as Chrystal Rucker, Vincent Tharpe & Kenosis, Charles Butler & Trinity and Keith Williams. Now, the electrifying artist has put together an equally electrifying collection of songs by some of the most dynamic young gospel artists on the rise and entitled the project, "Earnest Pugh Presents Gospel's Rising Stars" (EPM Music Group). The project was released last week and has now debuted at #4 on Billboard's Gospel Albums chart.
 
The 13-track set opens with the R&B flavored track "I Made It" by Angel Davis whom Pugh has crowned as the First Lady of the EPM Music Group. The 29-year old Dover, Delaware native began singing in church at the age of four and has been one of Earnest Pugh's background singers for five years. He recently had her join him for a riveting duet on the upcoming season of BET's "Bobby Jones Gospel" to introduce her to a wider audience.
 
BET's "Sunday Best" program introduced Seattle native William Demps to a wider audience as well. He shines on the bouncy `60s soul-styled tune "All Because of You." There are moving songs of praise by God's Chosen, Cody Holley, Michelle Prather, George Powell, Derek Jermaine and Carnel Davis, Jr. & ITP. Lawrence Dotson chooses the center of a dance floor to sing about "The Light" on this uplifting electronica tune.
 
However, this is also a gospel for a young generation which will enjoy the contemporary flavor of Ralph Williams smooth tones on the Pop tune "In Spite of Me" and Sheree Holman's velvety soprano on the engaging, acoustic-colored sing-a-long "Only Hope." Richmond, Virginia's Titus Jackson delivers a funky declaration on "Changed" while Brittney Wright's dazzling vocal gymnastics somersault over "I Came to Bless the Lord," an upbeat urban jam.  "This series is my vision of creating a larger platform for untapped talent that has been working on the backside of the desert for years and its time to push them to the forefront and expose them to the masses," EPM founder Earnest Pugh says of the soul-stirring compilation.