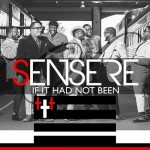 The highly anticipated GERALD JONES PRESENTS: THE INDEPENDENT SPIRIT PROJECT (Mixed Bag/eOne Distribution) album is getting a dynamic kick off in the form of emerging gospel soul band SENSERE and their delectable new single "If It Had Not Been." available now for purchase at iTunes.
Written and produced by the Major3rd Productions team (Gerald Jones, Justin Djuane Francis, and Carlos Woodard), alongside James Wright of SENSERE, the song brings a unique blend of genres that features ingredients of neo soul, funk, and traditional gospel. A guitar driven, toe-tapping number, "If It Had Not Been" glows with the group's lush harmonies and lyrics that speak to the everlasting faithfulness of God. A point made all the more poignant by its accompanying, energetic lyric video.
The song comes as one of the many "must hear" tracks that line THE INDEPENDENT SPIRIT PROJECT – a collection of gospel's finest unsung independent acts. Available summer 2015, the album features artists from every corner of the country who are not signed to major labels, but whose amazing talents stand toe-to-toe with top names in the industry. Housing a spectrum of sounds from the neo soul-tinged offerings of SENSERE to touches of EDM, traditional gospel, contemporary gospel, R&B, pop, and more, the THE INDEPENDENT SPIRIT PROJECT soars not only in quality, but also in its diversity. Said diversity finds itself represented sonically and also in the varied lineup of artists as the track list showcases solo male and female acts as well as groups of diverse ethnic backgrounds.
Even in its diversity this assembly acts as a unified front to provide a refreshing foretaste of the future of gospel music – the clear intent of the album's architect Gerald Jones. A gospel force best known as founder and CEO of DaGospelTruth.com, Jones is also an up-and-coming songwriter, producer, and rising music executive who believes the time for a project of this caliber is long overdue.
"The gospel music industry is slowly changing and making its way from the typical sounds to new voices and new faces."- Gerald Jones
And, with THE INDEPENDENT SPIRIT PROJECT, it's clear that Jones and this compilation of artists are ready to accelerate the steering of the industry in that direction. For more information on THE INDEPENDENT SPIRIT PROJECT visit www.ispiritmusic.com.