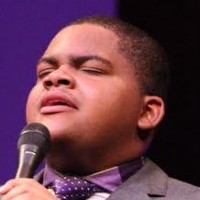 Seventh season BET'S Sunday Best winner and Fo Yo Soul Recordings/RCA artist Geoffrey Golden released his first single All Of My Help to all digital music providers today. All Of My Help is the first single from Geoffrey's debut album Kingdom…LIVE! executive produced by Kirk Franklin and available everywhere on August 7, 2015.
"A short time ago, I had the pleasure of hosting the live recording for Geoffrey's debut release," said Kirk Franklin. "I was amazed at the level of music and ministry that came out of this young man! It was obvious to me that God was allowing us to launch not merely a talent but also a powerful ministry.  I am so excited to share his first single from the live recording with the listeners."
Be sure to catch Geoffrey Golden performing at the 30th Chicago Gospel Music Festival on May 29-30, 2015 in Millennium Park.
All Of My Help Retail Links
Amazon: http://smarturl.it/AllOfMyHelp-A
iTunes: http://smarturl.it/AllOfMyHelp-I
Google Play: http://smarturl.it/AllOfMyHelp-G
Spotify: http://smarturl.it/AllOfMyHelp-S