Fred Hammond Presents Inaugural Project
"Life in the Word" In stores July 27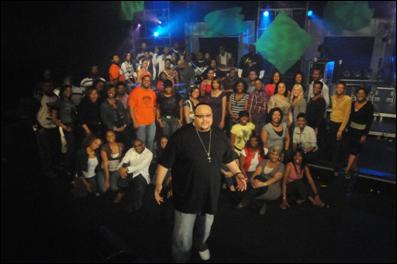 New York, NY – As a pioneer and one of the foremost exponents of urban praise and worship, Fred Hammond continues to push the bounds. Hammond and philanthropist Roy Campbell, his business partner, entered into an exclusive distribution agreement with Universal Music Christian Group (UMCG) for their new label venture, fHammond Family Entertainment.  The inaugural CD project, Life in the Word will be available in stores and online everywhere on July 27.
"We are honored that Fred Hammond chose UMCG as the place where he could develop and unfurl his vision," said Rhoda Lawrence, Vice President of UMCG. "People are thirsty for music that tackles everyday issues in their lives and they want it delivered in a way that speaks to them. Fred Hammond has the talent and the vision to propel gospel music to new heights; appealing to and inspiring music fans of all age groups and walks of life. Fred is passionate about artistry and about his lifelong mission to transform people's lives. When you have the opportunity to play a part in something of this magnitude, first you pinch yourself and then you get to work."
"The opportunity to form my label couldn't come at a better time," said Hammond, President and CEO of fHammond Family Entertainment. "Out of the box thinking and creativity is what we are producing here.  The projects that we have in development will further my artistic expression and expose my devoted music fans and beyond to another dimension of the Fred Hammond brand."
Starting off this week, fans can pre-order the digital version of Life In The Word at Walmart's MP3 store, http://mp3.walmart.com/store/home as part of an instant gratification promotion. Each week leading up to the July 27 release date, consumers will be able to download one piece of new content before the album in store date. Fans will be reminded via email when the content is ready for download.
Hammond, a GRAMMY®, Stellar, and Dove Award-winner with nearly three decades in music and ministry has produced a concept recording unlike any other in recent gospel music history." Life in the Word offers  something a little different." says Hammond, whose songs have, over the years, become a vital component of Sunday morning praise services. "It's easy for my audience to know where I'm coming from as an artist. They don't want a lot of tricks, they don't want to just listen-they want to participate. "This is the other side of my style."
fHammond Family Entertainment allows the gospel veteran to work on recorded projects, audiovisual products, and other kinds of media aimed at bringing gospel to the masses. Indeed, Life in the Word sees Hammond stepping away from the microphone and into the role of mentor, visionary and producer, guiding a fresh ensemble of young singers, worship leaders, and vocalists as they sing songs of devotion, commitment and worship lifted directly from Scriptures.
From a stylistic standpoint, Hammond knows he's taking chances, but he doesn't get caught up in the guesswork of how the public will respond. "My core will like it," he says. "I've known my audience for a long time, so I understand what they want; I've learned what I can do with my people. I believe that there are a million people who will buy good gospel music, and millions that love the Word of God. And they'll go right where it is and they'll get it."
The album opener and first single, "You Do Great Things" is a great primer for those longtime Hammond aficionados. The track is a rhythmic praise jam featuring Faith Anderson on lead and an impassioned vocal coda from Men of Standard founder Lowell Pye, who later gets a second chance to shine in the celebratory "Walkin' in Victory."
>From there, Life in the Word gets right down to business and settles into a more soulful, organic vibe, allowing for God's Word to take center stage. In fact, the disc is rife with scriptural interludes-spoken-word segments read by Hammond and others that further inculcate the listener importance of intimacy with the King of Kings and Lord of Lords. One such interlude, a solemn reading of Psalm 18:3-6, segues seamlessly into "Trust in the Lord," a triple-timed slow burner led by Ericka Warren that serves as a reminder that faith in God can move mountains and make a way where once there was none.
Through the vocals of newcomer Michael Bethany, the laid-back yet groove-laden "Need My Time With You" exhorts listeners to spend quality time under the shadow of the Almighty-the refuge and fortress from whence the Christian's strength comes.
Written almost 10 years ago, "Life in the Word," a midtempo number featuring up-and-comer Candace Laster, is headed straight for the charts as it echoes the blessings of living in God's Word. The same is true of "Home Inside My Praise," a lovely ballad that bids the Lord to inhabit the praises of His people.
The common thread of every song is the centrality of Scriptures in every phase of a believer's life-not a performance, a knockout vocal part, or the marquee value of the featured singers.
"The Word will never return void," says Hammond, referencing Isaiah 55:17 as he talks about the essence of Life in the Word, an album he describes as urban organic praise. "We're trying to get people to understand that no matter what we do, the songs we hear breathe life into us. I hope they are strengthened by what they hear."
Not coincidentally, the centerpiece of Life in the Word is a track that Hammond took upon himself to make his own; "Dwelling Place" has all the elements of a classic-in-the-making, a devotional piece that cleverly incorporates portions from the worship chestnut "Hiding Place," a song close to Hammond's heart.
"After so many years in this business and so many years making music, this partnership gives me another outlet to be more avant-garde, more radical, more edgy if I need to," Hammond says.