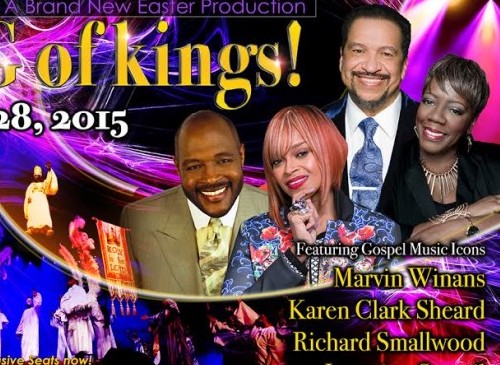 Back by popular demand, Evangel Multi Media and Arts Center proudly presents King of Kings! Show dates are Friday, March 27th – Saturday, March 28th, in Upper Marlboro, MD. This spectacular mix of Easter, Broadway and Gospel Extravaganza features Grammy Award Winning Artists Marvin Winans, Karen Clark-Sheard, Richard Smallwood, Paul Morton and Lorraine Stancil.
Evangel's KING of Kings! production retells the power struggles, tensions and political hotbed that surrounded Jesus' life and times which ultimately lead to His death, burial and resurrection.  This bold drama vividly portrayed through a cast of over 125 men, women & children, laser lights and dramatic imagery.
Come witness the passion of Christ unfold through glorious singing and A-list acting. Audiences will be undoubtedly be swept away by the powerful message of forgiveness, redemption and unconditional love.
Audiences every year return to see this production's climatic ending that truly gives new meaning to KING of kings!
The Evangel Multi Media and Arts Center is known for spectacular performances showcasing large musical casts, spectacular light shows, live animals and world renowned gospel artists.
Show Dates:                                        Times:
Friday, March 27                                7:30pm
Saturday, March 28                            Noon, 4pm & & 7:30pm