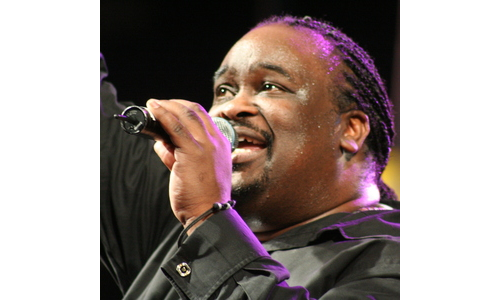 Eddie James is one of those under the radar musical superstars who travel the globe spreading the gospel but can still glide through a retail checkout line without much notice. However, for over two decades, James' inspiring praise and worship music has touched millions of ears and created for him a unique ministry niche that's earned him a devoted and multi-cultural following. Back in 1995, James sealed his name in black gospel radio history with his classic Top 10 smash "He's Been Faithful" (with the Phoenix Mass Choir) before transitioning into the praise and worship arena but now he's back to his gospel roots with a dynamic and powerful new modern day anthem entitled, I Love You.
I Love You hails from James' forthcoming double-disc "SHIFT" (Fresh Wine Records) that hits retail shelves and online portals such as the iTunes Store on August 26, 2014. Opening with a beautiful serenade of woodwinds, James and his celestial backing singers passionately echo the words "I love you" on this rousing ballad of divine devotion. Mid-way through the song, the rhythm section heats up and the song explodes into a riveting shower of call-and-response praises with James' soaring tenor circling like an Eagle above a crescendo of militant worshippers. A gifted songwriter who's penned songs for Israel Houghton, Helen Baylor and Beverly Crawford, James wrote the eclectic "SHIFT" project of spirited, God-glorifying songs of praise that unites his gospel audience with his praise and worship adherents and still leaves room for new converts.
The Phoenix, AZ native first was called to the ministry at the age of 9 and established Eddie James Ministries in 1993 as a youth mission that's since reached hundreds of thousands around the world with a message confronting teen issues such as pre-marital sex, racism, drug abuse and violence. James released his first CD "Higher"  (Intersound Records) in 1995 with The Phoenix Mass Choir. It featured the massive radio hit with "You've Been So Faithful." The CD reached #3 on Billboard's Top Gospel Albums chart and established James' career. He's since recorded with a variety of aggregations and released 17 albums. His most recent sets"Freedom: Live From the Ramp" and "God" both spent a year on Billboard's Gospel Albums chart and continue to sell briskly.  In the worship genre, James has created fan favorites such as Freedom, Let It Rain, and As the Deer. Earlier this year, James had an electrifying Top 40 gospel radio hit with the funky track "Same Spirit" that is also featured on the "SHIFT" CD. For More Information, visit  www.ejworship.org.