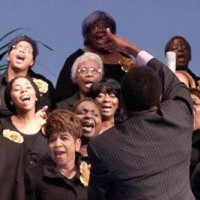 The critically acclaimed Dr. Cosby & The Wheeler Avenue Baptist Church Mass Choir thrill with their latest selection released to gospel radio, "He Steps In," available now at Itunes.
A hand-clapping, foot-stomping affair, the animated tune lines its powerful instrumentation – filled with triumphant horns, organs, and drums – with stirring lyrics of hope. Coming as a much -needed reminder of how much God is truly an "on time God," the song breathes new life into the spectrum of "traditional gospel" with inspiring energy felt from the moment the "play" button's pressed.
"He Steps In" may be making moves as the newest number lifted from the choir's acclaimed album, OH TO BE KEPT BY JESUS [ANNIVERSARY EDITION], but its parent album is decorated with no shortage of equally dynamic tracks. Spinning alongside fan favorites like its title track, "I Open My Mouth to the Lord," and the gripping, heartfelt song "He Will Deliver You," OH TO BE KEPT BY JESUS keeps finding itself in mention with the year's "must hear" albums for its masterful balance of modern and traditional gospel.
The Rev. Dr. Marcus D. Cosby-helmed Dr. Cosby & The Wheeler Avenue Baptist Church Mass Choir shines as the phenomenal musical extension of the world renown Wheeler Avenue Baptist Church of Houston, Texas. Revered for delivering some of modern gospel music's most potent praise-and-worship performances to their beloved congregation, the group is now seeing their acclaim expand its reach as they render live albums.