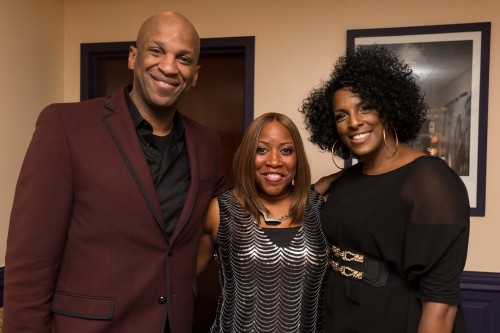 The line began forming before the doors opened.  The Camdon Music CD Release Party was a big success as people came out to show their support for the Ladies of Camdon Music.  There's no doubt that Andrea McClurkin-Mellini  came with a song in her heart as she charged the atmosphere with praise.  Then Nancey-Jackson Johnson took the crowd even further as she infused her three-song set with energy from on high. Both artists brought the crowd to their feet, but left with them giving their hearts to God.  For some B.B King Blues Club & Grill became a tabernacle for Sunday evening service.
The late night celebration didn't stop Donnie, Andrea and Nancey from rising early to make an appearance on the highly-rated Good Day New York morning show hosted by Rosanna Scotto and Greg Kelly.  From there they made a stop at the beautiful facilities of Radio One's ELEV8, the gospel division of Interactive One, headed up by Oretha Winston.  Before dashing to the airport to catch flights, the Camdon Music artists made one last stop for a 'meet and greet' with the ESSENCE Magazine editorial and digital team. The round-table Q &A was a great way for Andrea and Nancey to end the promo day with an impromptu performance and sharing why they sing and what gospel music means to them.
Andrea McClurkin –Mellini's  solo album release, HIGHER features the single, "God Can" that debuted on BET's Bobby Jones Gospel earlier this season.  Radio is embracing the up-tempo track that's seeing chart movement at a steady upward pace, or shall we say, moving higher. One thing for sure the 11-track CD is filled with songs that will have your heart leaping for joy.
"I'm so proud of my sister, Andrea, she's one of my favorite sopranos and now the world will finally witness what I've known all along.  She has devoted her time over the years to being a wife and mother, but now it's her time to shine," says McClurkin.
On June 24 New Jersey's very own Nancey Jackson Johnson celebrated her first solo recording in over ten years. Taking some time off from touring, Jackson- Johnson is back with a vocal range more powerful than before.  Penning 98% of the songs on her CD, The Heart of Nancey Jackson Johnson and working with an all-star team of producers like Kevin Bond, Aasph Ward, PAJAM and Clay Bogan, it's safe to say listeners are in for a musical experience.  "A Little Longer" the current single written by Brian and Jenn Johnson pulls on the heart strings from the first note.
McClurkin says, "Nancey is an amazing woman of God with a powerful voice.  I look forward to seeing her ministry unfold as she moves forward.   This is not her first solo recording, but it's her best work to date."