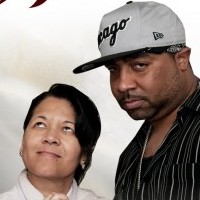 IAM Music Company begins 2015 with the release of a new single and heart touching music video titled "God Is Able" from Derrick Doc Pearson & New Covenant. Last year, Doc Pearson entered Billboard's Gospel Album chart Top 10 with his inspirational release "It's Alright".
2015 marks IAM Music Company's 10-year anniversary, to be celebrated with their best-of music and video release titled "No Greater Love". God Is Able is the first single and video release from "No Greater Love".
"God Is Able" song and video remind us that in this world we will have trouble but to be of good cheer for Jesus has overcome this world. No matter what we are facing we can cast our cares on the Lord for he cares for us and He is a present help in the time of trouble. God Is Able!
iPhone users can download the "God Is Able "ringtone on your iPhones in the iTunes Store.
"God Is Able" song download: https://itunes.apple.com/us/album/god-is-able-single/id934625144
Click to view "God Is Able" Video or visit Derrick Doc Pearson channels on YOUTUBE, VEVO, VIMEO, GODTUBE.
For more information visit IAM Music Company http://iammusiccompany.com