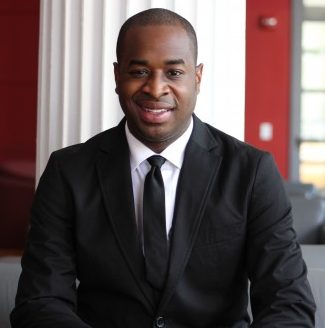 Just off a successful conducting debut of Wynton Marsalis' "Abyssinian 200: A Celebration" with the Jazz at Lincoln Center Youth Orchestra and WorldStrides' Heritage Performance National Jazz Choir at Carnegie Hall, conductor and composer Damien Sneed partners with Charlotte's Community School of the Arts and the Knight Foundation for its Spring Choral Concert with the Charlotte Children Choir at the First Baptist Church-West on Saturday, May 9 at 7:00 p.m. Sneed will conduct several compositions including "Do You Know What It Means To Miss New Orleans" by Eddie DeLange and Louis Alter and arranged by Susan Brumfield and John Austin; "It's Freedom" from Duke Ellington's Sacred Concerts; "Everyone Has A Place" from Wynton Marsalis' Abyssinian Mass; "Over The Rainbow" by Harold Arlen and arranged by Audrey Snyder; "Bashaba Haba' ah," a Hebrew folk song arranged by John Leavitt; and "At the River" by Aaron Copland.
The 56 choral students and the artistic staff of Charlotte's Choir of Community School of the Arts will have the incredible opportunity to work with Sneed on a very diverse body of work. "I am looking forward to performing with the Children's Choir," said Sneed. "Working with them has been absolutely refreshing due to their high level of artistry and focus, which reflects the greatness of their conductor, Heather Potter. Working with youth is one of the dearest things to my heart."  Sneed will inspire young singers through sharing his musical journal, introduce students to the intricacies of jazz music and the historical context, and will help develop flexibility, vocal adaptability, concentration and knowledge of style within the Charlotte Children's Choir. The Charlotte community, specifically West Charlotte, will have the opportunity to enjoy a free concert with amazing performances.
On Sunday, May 17, multi-genre recording artist Damien Sneed Presents an Open Mic and Artist Showcase at Ginny's Supper Club in Harlem, New York. The inaugural monthly event will feature gospel, jazz and soul music with two sets at 7:00 p.m. and 9:00 p.m. "Harlem is the mecca for the best in talent," says Sneed. "We expect to attract people from all over the city of New York and beyond. Artists need a place to showcase and nuture their talent in a friendly and safe atmosphere. All performances will be done with a live band, no track performances will be allowed."
Sneed and his group, The Levites will showcase music from his current CD, Broken to Minister: The Deluxe Edition. Those interested in singing as part of the Open Mic must submit an Mp3 or video no later than 11:00 p.m.on Friday, May 15. Please send all submissions to [email protected]. Song arrangements must not exceed five minutes. All submissions that are accepted will be notified by 5:00 p.m. on Saturday, May 16.
Ginny's Supper Club is located at the Red Rooster Restaurant, 310 Lenox Avenue in New York City.  To make reservations, please visit www.ginnyssupperclub.com or call 212.421.3821.