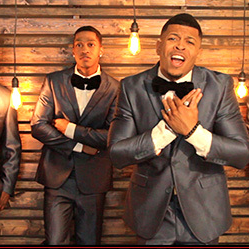 Without a doubt, Black Gospel Quartet has impacted generation after generation and has inspired many other genres of music including Blues, R&B and Rock.  Groups like The Five Blind Boys of Alabama, Willie Neal Johnson and The Keynotes, The Dixie Hummingbirds, and The Fairfield Four have set the stage for a new generation of Quartet singers and groups.  With an endearing love and respect for the traditional quartet genre, newcomers TOTALLY 4 HIM, a young group of gentlemen from Georgia, are making their entry into the genre with intentions of carrying on the tradition and introducing a modern approach to the classic and beloved style.
Totally 4 Him (T4H) consists of Carlos Harvey and Michael Harvey Jr (Turk) – who are biological brothers, and Dante Eady and Jesse Eady – who are also biological brothers.  Their national debut Gospel single "All We Need Is Love" is a unique collaboration of old school and new school featuring Gospel great Doug Williams and award winning producer Stan Jones.  
"When I first heard the group Totally 4 Him, I was thoroughly impressed with their vocal abilities and unique style," says Doug Williams of the legendary group The Williams Brothers.  "Having the opportunity to perform with them on their first single was a joy to me."
T4H is now releasing the debut music video to their infectious single "All We Need Is Love" which was directed by emerging Nashville based film director Lahai Mustapha and The Bellamy Group's Benita Bellamy.  The video was shot in Nashville "Music City", TN and throughout Jackson, MS where both Doug and Stan joined the group in support.
T4H is also now touring promoting their single which is available on iTunes and Amazon.