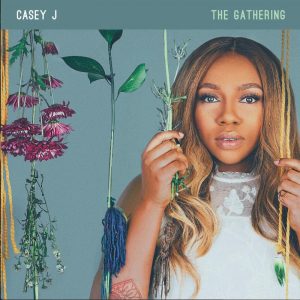 THE GATHERING, the much anticipated second album from prolific worship artist Casey J is available in stores and online everywhere today. The 2016 Stellar Gospel Awards New Artist of the Year, draws from a mix of music styles and influences to offer a unique worship experience.
The album's title, THE GATHERING, is also its core-theme. Recorded live in the farm-like setting of Serenbe, just outside of Atlanta, GA with a small group of worshippers, the 10-track album captures the beauty and power of unrestrained and organic worship.
THE GATHERING is the follow-up to Casey J's 2015 debut The Truth, and her number 1 breakout song "Fill Me Up", which has over 26 million combined streams. The title track opens the album as a call to worship, setting the tone for the entire project.
Her current single "If God" is Top 25 at gospel radio and continues to gain traction.
That mantle for sharing the Gospel outside of traditional church settings, rests on Casey who began holding "pop up worship" events in public places. Casey shares the messages of Jesus through song, inviting others to join her in worship, no matter the location. "The Gathering all started with the question, 'What about the people who aren't coming to church?'," says Casey. "So God placed it in our hearts to just start popping up at local parks in Atlanta with one agenda: to gather people together and share God's love using worship as our vehicle… we would pack up guitars, percussion instruments, and a few blankets and just sit in the grass and sing."
"We started to see something beautiful… an intersection between the Church and those who we are called to serve that reached beyond just our Sunday experiences," she continues. "From that grass grew a deep and solid purpose to create experiences that put all eyes on Him — both inside and outside of the church — and to write music that is the soundtrack to not only Sunday mornings on pews but Tuesday afternoons under the stars."
The Gathering is out today, and is the first collaborative project from Integrity and Tyscot, two of Christian and Gospel music's largest independent labels.