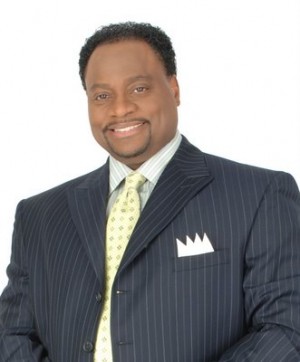 The Eddie Long drama continues. According to our friends over at EurWeb.com, a North Carolina businessman involved in an investment program at Bishop Eddie Long's Atlanta-area megachurch where former members claim they lost their retirement savings says he's taking action to "make things right."
A group of church members is suing New Birth Missionary Baptist Church and its embattled pastor, saying they conspired with businessman Ephren Taylor Jr. to defraud the members through "wealth-building" seminars and sermons in 2009, reports the Associated Press.
"In my case and that of my former company, some of the negative effects of a situation with very complex economics impacted businesses, individuals and families despite our best intentions," Taylor said in a statement to The AP.
Attorneys for the church members say in a DeKalb County lawsuit that Taylor urged them to liquidate their retirement accounts, and as a result some lost their life savings.
The U.S. Secret Service and the Internal Revenue Service are also investigating issues surrounding the seminars, which were hosted at the Lithonia-based church which claims 25,000 members, federal officials said.
For the full article click here