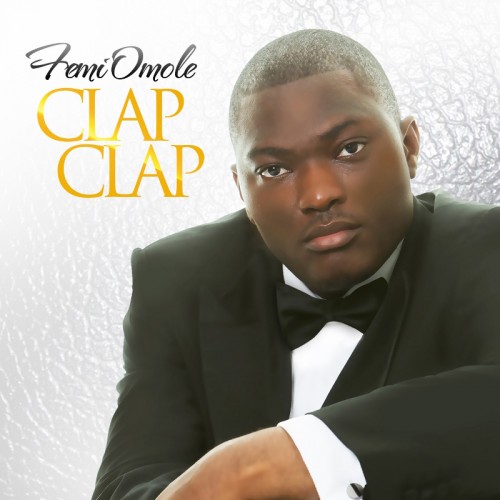 Acclaimed Gospel singer, songwriter and musician, and worship leader at RCCG House Of Praise, FEMI OMOLE, is proud to unveil his exciting new debut album titled Clap Clap. Written by Femi Omole himself and produced by award-winning producer Evans Ogboi, Clap Clap is an exhilarating 10-track affair filled with emotive and soul stirring live music, which brings down the atmosphere of heaven to earth allowing true worshippers to bask in the glory of God.
Clocking in at just under 45 minutes, Clap Clap is distinct from the plethora of Gospel records of recent times – every of the ten songs that make this amazing album has been carefully thought out, crafted and selected for the sole purpose of reminding it's listeners about the love of God. And what an excellent job of it, this Clap Clap album does – from its high energy praise songs, to the resounding ballads to its 80's Funk influenced numbers, Femi Omole has brought an original and unique sound to the contemporary Gospel scene with this album.
Accompanied by a bevy of acclaimed live musicians, from Emmanuel Laykay Dada on drums, Matt Davies on Saxophone, and Amos Evwiarivi on keyboards, to Ben Trickey on guitar, James Fountain on trumpet, Patrick Kenny on Trombone, and Tolulope Ogunbameru on bass, Femi Omole has also made Clap Clap a collective effort pulling in an amazing array of talent, the effects of which is an album, not only strong on the live music element, but also brimming with outstanding musicianship and glorious sonic backdrops on every side and every song.
From the slow building opening track "Bought" which is inspired by the redemption work of Christ on the Cross, to the Psalm 47-inspired album title track "Clap Clap", to the life-affirming number "Nobody Else", to the stirring worship song "One True God" which pays ode to the Lamb of God, to the solemn album's curtain call "In Your Presence", Femi Omole's Clap Clap is full of gratitude to God and filled with inspiration from start to finish, to make simply what is one of the best records you will hear in 2014, Gospel or otherwise.