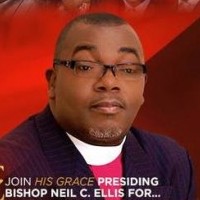 It has been nearly two years since the esteemed, Bishop Neil C. Ellis, announced plans for an international, interdenominational Christian fellowship that would unite, equip, enhance, resurrect and build the body of Christ through strategically implemented ministry and outreach.
In 2014, the inaugural conference, held in Winston Salem, NC, boasted almost 6,000 attendees, with exceptional ministry and marketplace workshops; transformative prayer, praise and worship; and fiery, impassioned and empowering preaching and set a tone of elevated excellence and vigorous pursuit of The Great Commission that undergirds the very premise of Global United Fellowship's mission.
To date, close to 600 pastors and churches from around the world, including England, Pakistan, Philippines, South Africa, West Africa, The Bahamas and The United States have joined Global United Fellowship (GUF), which will host its 2nd International Gathering on July 7 – 10 at the Prime Osborn Convention Center in Jacksonville, Florida.
On July 7th, there will be a press conference to unveil the newest key national leadership appointments of Global United Fellowship and to outline its plans for continually and rigorously impacting the church and, subsequently, society.
In addition to Bishop Neil Ellis, press conference speakers will include Bishop Kenneth Ulmer, senior pastor of Los Angeles' Faithful Central Baptist Church, Presiding Bishop over Macedonia International Bible Fellowship in Johannesburg, South Africa, and GUF's Chairman for the Council of Apostolic Fathers; Judge Glenda Hatchett, star and host of the former self-titled court television show and founding partner of The Hatchett Firm, and Global United Fellowship's Spokesperson for Youth and Family; Dr. Marvin Sapp, Grammy Award Winning singer-songwriter, Senior Pastor of Lighthouse Full Life Center Church and the Global Leader of the Central US Province;  Ambassador Suzan Johnson Cook, Principal Advisor for Religious Freedom to President Barack Obama and GUF's Global Leader of Cultural Diversity; Dr. Leonard N. Smith, Pastor of Mt. Zion Baptist Church, President and Chancellor of the Richmond, Virginia Seminary, and GUF's Global Leader of Pastors;  Bishop-Elect Sir Walter Mack, Senior Pastor of Union Baptist Church in Winston Salem and GUF's Global Leader of Evangelism; Dr. Carroll A. Baltimore, Former President of the Progressive National Baptist Convention, Senior Pastor of the International Community Baptist Churches, and GUF's Global Leader of National Recruitment; Dr. John Newman, Senior Pastor of The Sanctuary at Mt. Calvary, Chairman of the Jacksonville Port Authority, and GUF's Global Director of Social Justice; Pastor Donte Hickman, Senior Pastor of Southern Baptist Church and GUF's Global Director for Community and Economic Development;  and our resident host, Bishop Rudolph McKissick, Jr., Senior Pastor of Bethel Baptist Institutional Church and Global United Fellowship's Vice Presiding Bishop.
The press conference promises to inform and enlighten while providing an intimate look at one of the most impactful, fastest growing interdenominational church fellowships to be founded this decade.