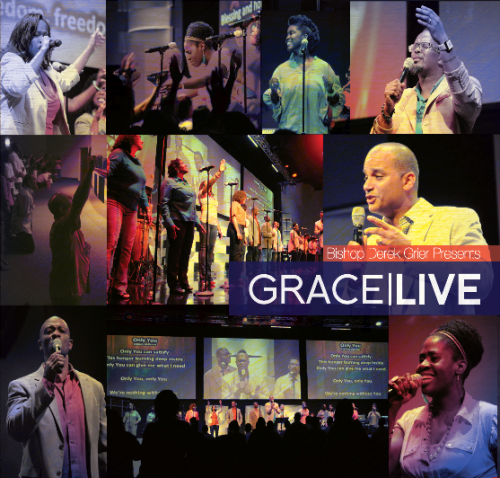 Grace Church has been recognized by Outreach Magazine as one of the country's fastest growing churches.  Moving from 12 members to 4,000 in a matter of a few years, the Dumfries, VA-based church is one of the most popular in the Washington, DC area.  The church's Pastor, the charismatic and dynamic Bishop Derek Grier, is known as a profound and riveting speaker.  Since starting the church in 1998, one of his goals has been to bottle the church's unique and authentic worship into a CD.  His vision came to pass with the 2014 release of the Grace Worship Team's new project, GRACE|LIVE.
"We are excited because GRACE|LIVE will bless the lives of many," said Bishop Grier, "We are a ministry that celebrates the creative arts because we know that it is another way to introduce people to the restorative power of the Gospel.  GRACE|LIVE achieves this goal through the creative excellence of Ephraim McKenzie, our Minister of Music, and the Grace Church Worship Team."
Produced by McKenzie, the debut recording flaunts the best of Contemporary Gospel, Contemporary Christian and Praise and Worship music.  Songs like "Freedom", originally recorded by Christian artist Eddie James, and "Oh How He Loves" by CCM's David Crowder Band are given the "Grace" touch.  McKenzie offers a number of memorable cuts of his own including the worshipful "We Honor You", the captivating "Holy of Holies" and the faith-filled "Crazy Enough".  Through 13 exceptional tracks of praise and worship, Grace gives the believer a peek inside what a typical Sunday morning service is like.
With a heart of worship and the ability to craft a well-penned song, McKenzie provides much of the inspiration on this project.  In picking the tracks for the CD, he was quite strategic.  "I feed off the congregation," shares McKenzie.  "That was my first consideration in choosing the songs on the project.  I wanted to make sure they were songs that really ministered to the congregation here at Grace.  It was also my goal to include original songs or songs that had already been recorded, but had become Grace anthems," explains McKenzie.
The night of the live recording was electrifying and the CD and accompanying DVD capture the unbelievable evening.  McKenzie believes those who listen to the CD will feel what the congregants felt that night.  "Once people hear this project, my prayer is that people are left basking in the presence of God.  This CD is authentic worship.  It's for the believer who says, 'I have got to get to God'. They can do it through GRACE|LIVE."
GRACE|LIVE is currently available on iTunes, Amazon and CDBaby. The CD is also available for purchase on the Grace Church website, www.gracechurchva.org.