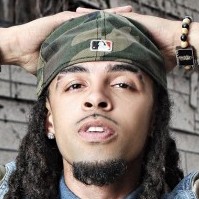 Last week, Dee-1 made a huge splash in the rap-game with his debut performance on the BET Hip Hop Awards' Cypher and the release of his new single, "Against Us" on RCA Inspiration.  The New Orleans based rapper celebrated both successes with a performance at SOB's in New York City during BET's Music Matter's Showcase that left fans and music critics alike buzzing.
While in New York, Dee-1 also made stops at Music Choice, BET, XXL, and SiriusXM's Sway in the Morning Show on Shade 45.  Check out Dee-1's performance from the BET Hip Hop Awards Cypher, his powerful interview on Sway in the Morning and what people are saying about him:
Twitter
Bossip @Bossip
GO DEE-1! #HipHopAwards
Mack Maine @MackMaine
That cypher was tough!!!! Troy Ave, Dee-1, Lil Mamma and the newcomers I see y'all!!! #BetAwards
Charlamagne Tha God @Cthagod
Dee 1 spitting…….
Colby Colb @ColbyColb
I see u @Dee1music #HipHopAwards watch out for Dee1, he is a gifted MC
Gerard Bonner @Bonnerfide
Great to see @Dee1music Crushing on this Cypher!! #BETHipHopAwards
"Against Us" is the powerful first single from Dee-1's forthcoming EP, 3'S UP, scheduled for release at the top of 2015.   Check out the lyric video for the single at http://www.youtube.com/watch?v=thgpKxxt2Zk.  "Against Us" is available via all digital music providers.
With a goal to educate and inspire a generation to achieve more, Dee-1 is regularly sought out to speak and perform for the youth.  Recognizing his influence, BET tapped Dee-1 to join this year's BET College Tour.  Remaining dates on the tour for Dee-1 include stops at Grambling State, Tuskegee University, Mississippi Valley State University, and Jackson State University.
Remaining BET College Tour Dates:
Wednesday, October 22—Tuskegee University—Tuskegee, AL
Wednesday, October 29—Mississippi Valley—Itta Bena, MS
Friday, October 31—Jackson  State—Jackson, MS