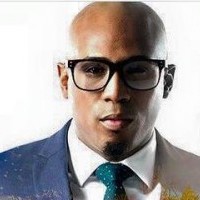 2013's Stellar Awards' Group / Duo of the Year, Anthony Brown & group therAPy returns with an impressive new album, EVERYDAY JESUS, due in stores July 17, 2015.
Brown, who is heralded for his creativity, passionate worship and top-notch vocals, brings his entire arsenal of talent to EVERYDAY JESUS a project geared towards helping us experience Jesus every day and in every way.
EVERYDAY JESUS, was recorded live at New Psalmist Baptist Church, in Baltimore MD to a capacity crowd earlier this year. It is jam-packed with 14 innovative tracks that range from urban inspirational and show-tunesque to high-energy praise, beautiful ballads and tried and true church music.
"Everyday Jesus is a collection of songs for the everyday believer, literally they are songs for every season," said Brown. "As a Christian, I experience 'real life' scenarios that test my faith and pushed my creativity and writing to the limit. This album is full of songs for everyone … they speak to every situation — whatever you are facing, wherever you are in life and whatever you need: There is a JESUS for that."
The first single, "Worth" is already a bonafide hit. The purely magnificent song is both joyous and worship-filled that speaks to the glorious gift of Jesus' sacrifice. Truly a special song, its impact is already being felt, as "Worth" is among the top-selling digital gospel songs. Brown recently debuted the video on elev8.com and can be viewed here: https://www.youtube.com/watch?v=iX59fjowutw
As always, the vocals are the shining star on a group therAPy album. Among the gems are the title track, "Everyday Jesus" which is stylistically retro with exceptional arrangements; "The Same," offering a pop-sounding track and the powerful "The Benediction."
Brown & group therAPy invited several guest stars to join him including Chrystal Rucker, Darrel Walls (of the Walls Group), Maurette Brown Clark, Gaye Arbuckle and Da TRUTH.
Brown's first Tyscot Music & Entertainment project, "Anthony Brown & group therAPy" was released in late 2012 to recognition and accolades. Billboard Magazine dubbed "Testimony" the "Top Gospel Song of 2013." The 2014 29th Annual Stellar Gospel Music Awards saw the self-titled album win for "Group/Duo of The Year," "Contemporary Group/Duo of The Year," "Contemporary Male Vocalist of The Year" & "Music Video Of The Year" for "Testimony." 2014 ended with "Testimony" also earning recognition for "Top Gospel Song of The Year" at the 27th Annual ASCAP Rhythm & Soul Music Awards.
Since their eponymous debut release, Anthony Brown and group therAPy have traveled the country performing and ministering with performances at the 2013 Essence Music Festival, BET's "Celebration of Gospel," "Bobby Jones Gospel," The Stellar Awards, TBN and more.