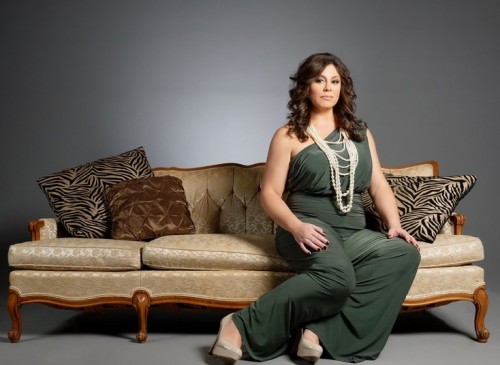 On October 27th, the highly talented Andrea Helms released her beautiful album titled, Clap Your Hands to critical acclaim.  This past week, Andrea saw her album debut at #6 on the Billboard Gospel Chart.
Andrea Helms is no stranger to Gospel Music and the Gospel Music Industry. She is known for her powerful voice and performances on Season 4 of BET's Sunday Best, is a lifelong singer and worshipper from Odessa, Texas. Andrea grew up loving music and is currently the minister of music at Friendship Church, where her father was the Pastor. Andrea now has a chance to share her passion and talents with the world. She released her first album, Moving Forward in 2012 with Music World Gospel.
Andrea's ability to overcome her odds built a strength that would prove to be an asset to her surprising success on BET's Sunday Best. Andrea's journey to first runner-up on Sunday's Best was one of faith and favor. Andrea admits that she left that platform as a much stronger and more confident performer. Andrea demonstrated her range and ability with her personal renditions of songs performed by some of the industry's top talent including Tremaine Hawkins, Whitney Houston and Martha Munizzi. She continued to display her boldness as she put her authentic stamp on seven popular songs for her debut album, Moving Forward. She covered Mary Mary's "Yesterday", Richard Smallwoods "I Love the Lord"; "Wind Beneath My Wings"; and two classics from Donald Lawrence. The album was well received, reaching #2 on the Billboard Gospel Chart.
In addition to her music, Andrea has been busy with theatre productions and appearances. She performed alongside Le'Andria Johnson in T.J. Hemphill's play Perilous Times II and was requested to sing at Dr. Martin L King, Jr.'s birthday celebration in Atlanta. Andrea currently resides in Denton, TX with her husband and son. She is still currently the minister of music at her childhood church, Friendship Church, where her husband is now the pastor.
Helms, who first was discovered competing for the top spot on BET's Sunday's Best show, has been touring in support of her album to the fans delight.  Check out her tour dates below:
Nov 10-11 Philadelphia, PA
CLC Book Store (In-Store Signing) 1000 S Easton Rd (1p to 2p), Wyncote, Pa 19095
CLC Book Store (In-Store Signing) 401 Rt 38 Suite B-9 , (3p to 4p), Moorestown, NJ 08057
Nov 14- Charleston, SC
Calvary Church of God In Christ -Evening of Restoration ft. Bishop Paul Morton w/ Andrea Helms, 302 Jeff's Circle, Goose Creek, SC. 29445
Nov 15- Columbus, OH
Gospel Performance Arts Expo – Northland, Performance Arts Center
Nov 16-17th Cleveland, OH
Mt. Olive MBC- 3290 E. 126th Street ,Cleveland, Ohio 44120, Pastor Larry L. Harris –8am
Mt. Calvary MBC – 442 Bell Street, Akron, Ohio 44307 –10am– Track Performance
Nov 22– Tampa, FL – Favor Ain't Fair
Carol Marsoni Hall, 1010 North W.C. Macinnes Place, Tampa, FL. 33602
Dec 31- Houston, TX (NYE Celebration)
Crossroads Community Church, 3350 Manvel Rd. 77584