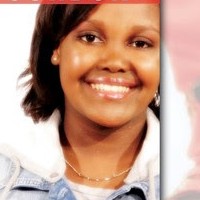 Robyn Gordon is not allowing any grass to grow under her pretty little feet!  The talented eleven year old from Clarksville, Tennessee has released her new Contemporary Gospel single "He's B4 Me." 
Although a youngster, Robyn uses her life to serve God with her pure spirit and beautiful voice.  In 2012 she released her debut CD AMAZING and now she has been putting hours in the studio working with Grammy Award Winning Producer Tre' Corley of Oak Tree Productions working on an all new project.  Her new single "He's B4 Me" released on iTunes and was followed by the release of her "He's B4 Me" official music video on YouTube.
In 2014, Robyn made her stage debut in the hit play "Not Over My Dead Body," directed by her Mother, Treva Gordon and Lavon Bracey.  Her passion for singing has led her to performing at major shows including back to school bash events and opening for Jekalyn Carr, and more all since age 4. She works at maintaining her grades in school, writes for a magazine, and sometimes co-hosts a radio show program. An avid writer, Robyn is also writing her first children's book about bullying with a children's conference and anti-bullying rally in August.
Robyn Gordon as she currently serves as a state title holder for USA Miss Tennessee Preteen.   While wearing that winning smile and infectious personality as a State Queen, Robyn is required to become involved in charities, activities and community events throughout Tennessee and beyond. She is a Youth Advocate, and will be featured on the cover of AAU Magazine in August.  Miss Gordon has already received an invite to walk the Red Carpet at the Step & Repeat and National Youth Activist Awards Show, been featured in the Tennessee Tribune Newspaper, The Leaf Chronicle, Trinity Gal Blog, and as a guest on the Treva and Kevin TV Show.
She also has an upcoming role in the award winning (Novel turned) Stage Play "From Crack to Christ," by Tanya Davis, coming to the Tennessee Performing Arts Theater in November 2015.