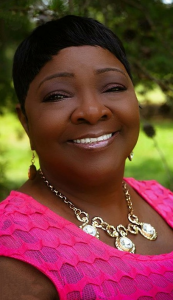 Shirley Alford's heart is filled with worship. The Gospel Artist and Worship Leader is called to bring believers into the presence of God. A gifted vocalist who has shared the stage with artists like the late Rev. Timothy Wright and Keith Childress, Alford has also been teaching other Levites about worship through training and workshops. Now the psalmist is readying her third project by releasing a brand new single entitled, "The More I Seek You". Released in late September, the track is currently available for purchase on iTunes, Amazon and Google Play.
Destined to be a worship anthem, "The More I Seek You" encourages the faith-filled to turn to the Lord more. Penned by the songstress herself, Shirley wants others to understand the value of being intimate with God. "I want people to seek Him and cry out to Him," she says. "I pray that they will allow the songs to minister to them. I want them to experience deliverance and to let God heal the broken places in their souls."
A heart-felt ballad, "The More I Seek You" is the worshipper's first track after a multi-year hiatus from the studio. For her return to recording, she chose Gospel producer and engineer Eddie Hicks to lead the way. The magic that was created and captured in "The More I Seek You" will leave the listener inspired. The song precedes her Spring 2019 release of the worship project, The More I Seek You.
Gospel music has always been in Shirley's blood. Her father was a member of the Baptist Four, a quartet that opened up for artists like The Blind Boys of Alabama and The Williams Brothers. Her journey in music started at the age of four when she joined her church's adult choir because there was no children's choir. At age five, she petitioned her pastor to start a children's choir, which she ultimately directed. Over the years, her love for music grew and songwriting and arranging were added to her musical talents. Her debut, Into The Storm, was a 3-song project and was followed by a second recording that, unfortunately, was never released. Now, after maturing in her faith, she returns with a goal of creating a spirit of worship. Her desire to encourage worship amongst God's people has found her consulting and training the next generation of worship leaders. She has been tapped by music departments at New Hope and Life Church of God in Christ in Capitol Heights, MD, and Repairer of the Breach Ministries in Washington, DC, teaching those called to music ministry.
"God has called me to reach the heart of the people through worship," she says. "Worship is His heart and it necessitates a relationship with Him. True worship enters the very depths of your being and causes you to become intimate with the Father. Simply put, worship is a divine encounter with God," says the modern-day Levite. To connect with her on social media, reach out to her on Facebook, Twitter and Instagram.