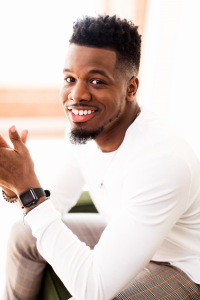 While Will McMillan may not (yet) be a household name, his creativity and musical genius are more familiar than one might know. McMillan, Minister of Music at i5 City Church in Baltimore, Maryland, has collaborated with such Gospel music luminaries as Tasha Cobbs, Jason Nelson, Jonathan Nelson and William McDowell. McDowell, along with Travis Greene, has also entrusted McMillan with music director duties along the way. A self-taught artist and musician, McMillan's creative sensibilities bridge tradition with a contemporary and fresh approach that appeals to Gospel music fans of all ages.
McMillan's debut album, My Story, is available from eOne Nashville. The lead single, "Best Thing," is a remake of the James Cleveland classic, "Jesus is the Best Thing." The elegantly sparse production make McMillan's pure, vibrant voice – and the song's heartfelt message – the focal point of this gorgeous rendition.
Other highlights on My Story include "Hanging", a lush love letter to Jesus; the folksy "See You," featuring Will's sister, Julia McMillan, and the soft rock tinged "Scream it Loud."
"Will is one of the most humble, sincere and gentle hearted souls that I've had the pleasure of working with. His heart being so amazing is what makes you want to know more about his story. My Storytakes listeners on a music journey that makes unexpected twists and turns, resulting in a beautiful and broad perspective of what worship music sounds and feels like. The genre has been asking: Where is the new, young, different and authentic? I am excited that we can offer them Will McMillan, and his music as an answer to that question", says Gina Miller, VP/GM Entertainment One Nashville.
MY STORY: Album Track List
Hanging

Never Get Tired (Running) feat. Lance Robinson
See You feat. Julia McMillan
Best Thing
You'll Never Leave Me
Tell Me Where
Scream It Loud
Lost and Found
About Entertainment One
Entertainment One Ltd. (LSE:ETO) is a global independent studio that specialises in the development, acquisition, production, financing, distribution and sales of entertainment content. The Company's diversified expertise spans across film, television and music production and sales; family programming, merchandising and licensing; digital content; and live entertainment. Through its global reach and expansive scale, powered by deep local market knowledge, the Company delivers the best content to the world.
Entertainment One's robust network includes Makeready with Brad Weston; content creation venture Amblin Partners with Steven Spielberg, DreamWorks Studios, Participant Media, and Reliance Entertainment; unscripted television production companies Whizz Kid Entertainment and Renegade 83; live entertainment leaders Round Room Entertainment; world-class music labels Dualtone Music Group and Last Gang; and award-winning emerging content and technology studio Secret Location.
The Company's rights library, valued at US$1.7 billion (as at 31 March 2017), is exploited across all media formats and includes more than 80,000 hours of film and television content and approximately 40,000 music tracks.