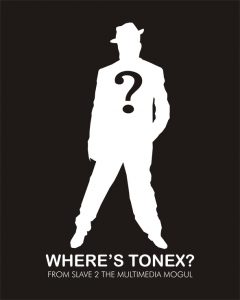 Join Tonéx Sunday September 15, 2013 at the historic Howard Theatre located at 620 T Street NW  Washington, DC 20001. This will be the noteworthy performers last performance under the said moniker. This is a LIVE performance you don't want to miss! The show starts at 1pm (doors open at 11:30am)
Tickets purchased in advance are $35. ($45 the day of). Groups sales available for parties of 10 or more. For more information click here or call 202-803-2899.
Born Anthony Williams, Tonéx grew up in the San Diego, California area. His father, Dr. Anthony Williams, was Senior Pastor of the Truth Apostolic Community Church in Spring Valley, CA and served as a district elder in the California District Council of the Pentecostal Asssemblies of the World (PAW). By the age of 7 the child prodigy, Tonéx was playing the organ and composing songs of his own. By age 10, he had recorded an album of his own at home (produced by Virgil Brookins).
It was Tonéx's performance at the 14th Annual Stellar Awards that left a mark on the Gospel Industry at large. Tonéx is not just a singer but a true vocalist, dancer and performer. Tonéx's artistic ability was not only gaining the attention of Gospel music lovers but of music lovers as a whole.
Friend, Tye Tribbett took to Instagram recently stating "He is the BEST that has ever done it!! The greatest presenter of Gospel Music #PERIOD. I'm still trying to present it on the level he did years ago. His ministry opened the door for me. His production n creativity STILL inspires me to this day."
Anthony Williams has a lot more to offer the Gospel community and it's coming soon. Click here for some recent footage