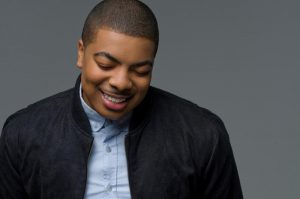 "There is more to life than what we see, hear, touch, smell, and taste." This quote came from a recent interview with new Gospel artist Corey Barksdale, when asked why he is passionate about identity and God's purpose for our lives.
With no hesitation, Corey Barksdale expressed his heart by saying, "We are God's creation! We all have purpose! God loves us! God has a good plan to prosper us! God designed us! God (The same God that created Heaven & Earth) chooses to have a relationship with us! When we really take these things into consideration, it ought to help us love and appreciate ourselves more than we have in the past."
Corey's recent statements help explain the foundation of his music and ministry and it was also evident during his recent TBN appearance, noted mention in Sister 2 Sister magazine and live radio interviews and appearances throughout the Midwest.
When a new artist, such as Corey Barksdale, makes confident and authentic steps forward, it's always an honor when afforded opportunities to connect with people through national platforms to share their music.
As national opportunities continue to pour in, Corey is grateful for his upcoming appearance on the Word Network. On, Friday, March 28th, Corey Barksdale will travel to Detroit, MI to share new music live on Rejoice in the Word, hosted by Bishop George Bloomer on the Word Network. Rejoice in the Word will air at 8pm EST.
Supporters are encouraged to tune in March 28th and join Corey Barksdale in worship along with Bishop George Bloomer, the Word Network family and viewers across the country.