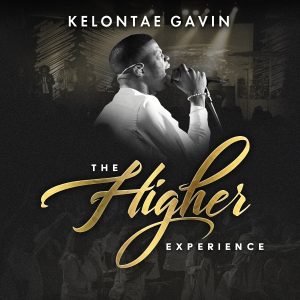 Recognized as a "live-wire prodigy" by New York Times Pop critic Jon Caramanica, 19 year old multi-faceted millennial recording artist and viral teen sensation, Kelontae Gavin who graduated high school last year launched his career with a performance in his high-school cafeteria, at the age of 15, singing a popular inspirational song, "I Won't Complain," that went viral and to date has generated over 1.4 million views. Fast forward to now, Gavin has released his debut project THE HIGHER EXPERIENCE (MBE/Tyscot Records), which debuted at #1 on AmazonMusic Christian Praise & Worship Digital Albums chart. The 11-track project is available in stores and online wherever music is sold or streamed (http://smarturl.it/mxy2bp).
Produced by TedyP and Marquis Boone, THE HIGHER EXPERIENCE was recorded live at Fresh Start Church in Duluth, Ga., in 2017, and includes the Billboard Top 20 radio single "No Ordinary Worship," which delivers a solid and commanding performance and boasts a thunderous bass line, incomparable vocal technique and a Heaven-sent message of divine worship and features a guest appearance by BET's Sunday Best winner Geoffrey Golden.
The Stellar Award-nominated acclaimed artist embarked on a 16-city promotional tour in support of his debut album with stops in Florida, Louisiana, Texas, Indiana, Illinois, and Alabama. The tour consist of press, radio and church stops with upcoming stops in South Carolina, Georgia, Maryland, Washington, D.C. and New York and appearances on top-tier digital, TV and nationally syndicated radio platforms including Good Day Columbia, WLTX CBS 19, CBN News, TV One's Sister Circle, WHAS 11 Atlanta & Company, The Willie Moore, Jr. Show, The Nightly Spirit w/ Darlene McCoy, Sirius XM Radio and BET Digital among more. The tour wraps May 18 in Cincinnati, Ohio at the I Hear Music In The Air Concert.
For more information on Kelonate Gavin and tour dates visit www.KelonateGavin.com.
The Higher Experience Tour Dates:
April 27: Columbia, SC/ Ridgeville, SC
April 29: Duluth, GA
April 30: Atlanta, GA
May 1: Baltimore
May 2: Washington, DC
May 2- May 7: New York City
May 18: Cincinnati, OH
WATCH KELONTAE'S LIVE PERFORMANCE OF "NO ORDINARY WORSHIP