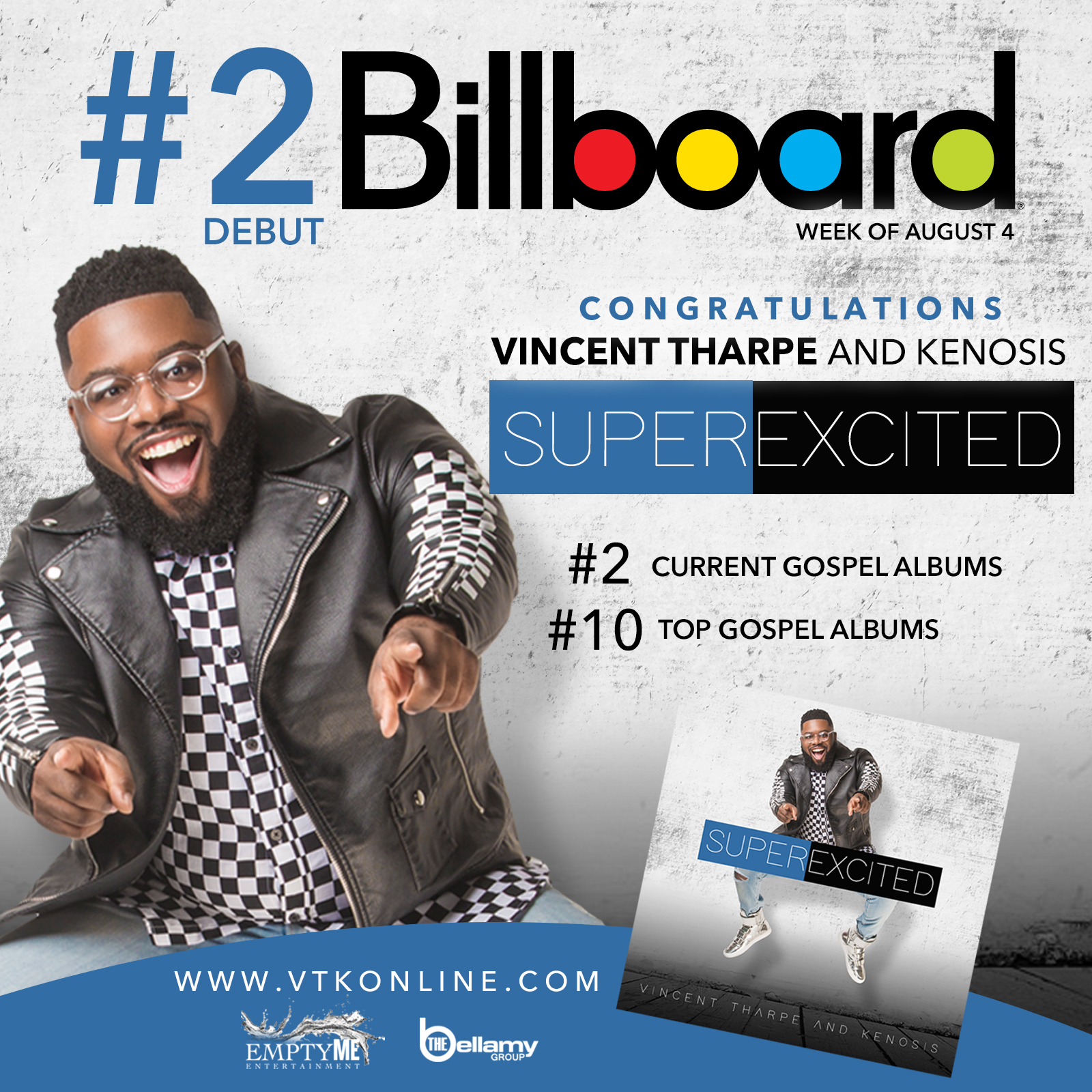 Stellar Award Nominated Contemporary Gospel ensemble Vincent Tharpe and Kenosis (VTK) are traveling around the United States singing about how super excited they are about Christ.  The Memphis based group is even more pumped as their album SUPER EXCITED has topped the Billboard Gospel Charts this week.  SUPER EXCITEDdebuted at #2 on the Billboard Current Gospel Album Sales Chart and #10 on the Billboard Top Gospel Albums Chart.
SUPER EXCITED is a powerful 9-track contemporary album that features Kefia Rollerson on "Reign" and Gospel music icon John P. Kee steps in with the group on the song "Victory".  VTK stretch their signature vocal dynamics to new and incredible  octaves heights on "Victory".
"Look as far up beyond the clouds as the natural eye can see… somewhere up there you'll find Vincent Tharpe and Kenosis singing 'Victory', because that's how high they are singing on that track," says Recording Artist and Worship Pastor Darwin Hobbs.  "This is easily one of my favorite choir songs of 2018! They are SINGING!"
Listen To "Victory"
VTK's "SUPER EXCITED SUMMER TOUR" is also in full effect!  For the month of August, the group is on the road headed to:
Greater Bethel Church in Oklahoma City, OK on August 3
Bridge To Life Christian Fellowship in Dallas, TX on August 4
Hopkinsville Community College in Hopkinsville, KY on August  10
All Nations Worship Assembly of Huntsville, AL on August 12
Mt. Carmel MBC in South Bend, IN on August 17
Lighthouse Church of All Nations in Chicago, IL on August 18-19
Nehemiah Christian Center in Durham, NC on August 31
More SUPER EXCITED Tour dates can be found on www.VTKOnline.com and, the album is available on all digital music and streaming sites.  To book the tour at your church or in your city, contact Benita Bellamy Kelley – [email protected].