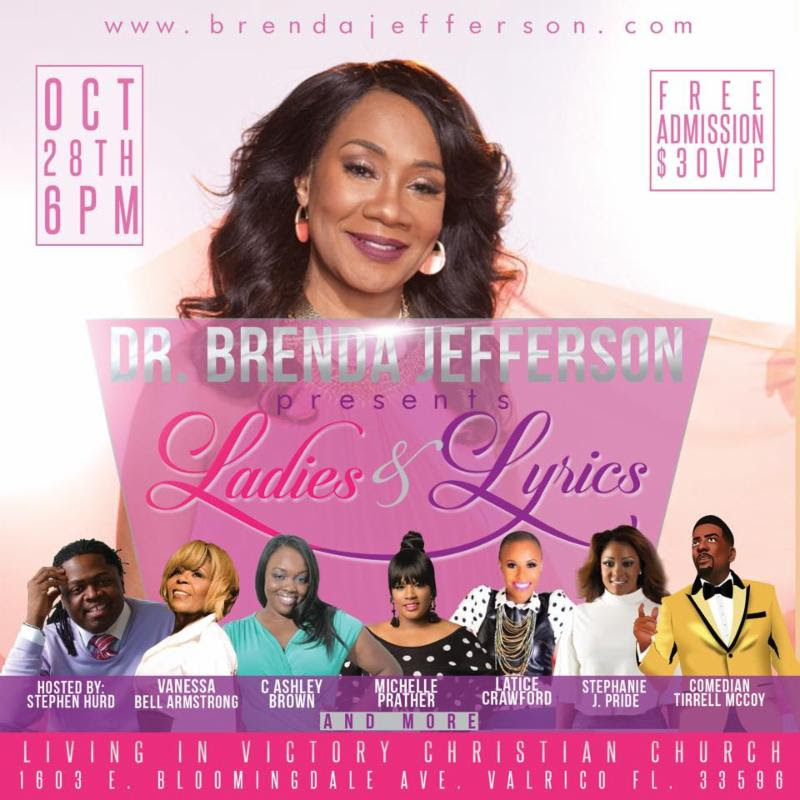 Accomplished pastor, author, songwriter, and pillar in the Tampa community, Dr. Brenda Jefferson will host her annual Ladies & Lyrics concert 
Saturday, October 28, 2017
, at 
6 p.m.
 located at Living In Victory Christian Church located at 1603 E. Bloomingdale Ave, Valrico, FL, 33596.
In conjunction with Dr. Brenda's birthday, the event will be hosted by Stephen Hurd and will highlight artists performing songs that Dr. Brenda penned over the years including BET's 
Sunday
 Best Latice Crawford, Vanessa Bell Armstrong, Michelle Prather, C. Ashley Brown, Stephanie J. Pride, comedian, Tirrell McCoy and more.  In addition, Dr. Brenda will perform "Pen of Ready Writer" featuring Tampa's native son, Samuel Washington.
"I do this event because to me the music is a ministry and from the word that God gave me," says Jefferson.   "I like artists to minister my word through song and to incorporate their feelings to get yet another interpretation of the song."  She goes on to say
,
 "People literally cry when they hear these songs.  I am fulfilled when people are blessed and God penetrates their hearts.  It's powerful to me and I'm excited to see how people are going to be moved this year."
The event was originated from the "Pen of A Ready Writer" project, produced by Grammy & Stellar Award-winning producer, Myron Butler, featuring Stellar Award winner, Lucinda Moore, Stellar Award nominee, Lecresia Campbell, Rhonda McLemore, Ryan Horton, Shawn McLemore, 
Sunday
 Best finalist, Danetra Moore and multiple Stellar and Grammy Award winner, Dorinda Clark- Cole.
Past hosts have included Donald Lawrence, William Murphy, and Vickie Winans to name a few.
Free to the public, the "Ladies & Lyrics" annual concert has been successful from its inception and is always a packed house.