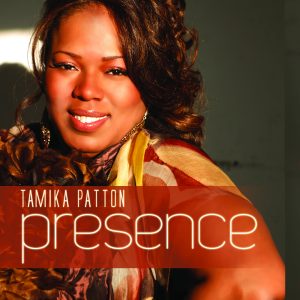 Just a year ago, Gospel singer, Tamika Patton won a single deal with Gospel Recording Artist James Fortune at the Praise 103.9's Inspiration & Music Conference. Fortune wrote and produced her single "More Than Faithful".
The time has come and Patton is gearing up to release her latest album "Presence". Take a listen below to a few tracks that will be on this album.
Tamika Patton… A voice for this present age… 
The power, range and articulation…EXCELLENT! The passion, poise and presentation…EXQUISITE!  The anointing… from God alone!  What can you say, when God literally touches one of His own to share such a remarkable gift with thousands of souls?  Simply…thank you. 
Tamika Patton, Philadelphia native, gospel recording artist and actress is very busy these days; celebrating being voted "Best Inspirational Singer in America 2011" by Radio One and Praise 103.9, an upcoming tour with Stellar Award Winner James Fortune & FIYA and a new single, "More Than Faithful"; written and produced by James Fortune that is blessing people across the country   to rave reviews and is currently available on iTunes, Amazon and CD Universe. 
Her appreciation for music is well beyond her years. Tamika proudly refers to Yolanda Adams, CeCe Winans, Mahalia Jackson, Vickie Winans, Chaka Khan, India Arie and Ella Fitzgerald along with other foundational names numerous in the industry as artistic role models. 

Tamika Pattonhas traveled extensively across the United States and abroad ministering in song. She has brought joy to our brave men and women in the Armed Forces in South Korea and Japan, has performed at various conferences nationally, completed a promotional tour with the legendary Patti La Belle, and has had the honor of sharing the billing with gospel greats including Yolanda Adams, Karen Clark-Sheard, Vickie Winans, Kurt Carr and numerous others. 
Further extending her musical experience, Tamika continues to portray the "Queen of Gospel", Mahalia Jackson in the hit gospel musical, "Hallelujah Mahalia", written and directed by playwright Donald Welch.  "I feel that it is no longer a role, but a part of me", says the rising gospel starlet.  She has also had the honor of portraying the Queen of Gospel in Otis Sallid's… GOSPEL, GOSPEL, GOSPEL at the Wilshire Ebell Theatre in Los Angeles, CA. Tamika looks forward to broadening her horizons and sharing her theatrical experience in other productions as well.  

Tamika Patton has been a strong and steady force in the industry for years.  Ms. Patton's new album soon to be released will serve as the icing on the cake, as she reintroduces herself to the world!  She unselfishly sings and ministers in a manner that reveals true and transparent worship, ushering you into the presence of the Lord!  Why do I continue to press towards the mark?  "It is simple, it's all about souls.   Tamika Patton, the essence of true love, passionate worship, warmth and sincerity.  Her ministry continues to be a blessing to many and will soon bless the nations; her arms remain outstretched for you to feel the warmth of her embrace…
For Booking and Management, Contact:
Khalif M. Townes – 215.437.3292 x 102