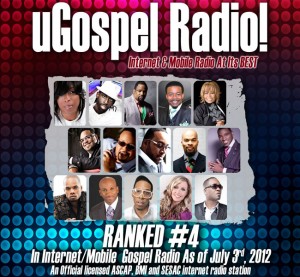 As of July 3, 2012, uGospel Radio is ranked #4 among Internet Gospel Radio Stations in the United States. This news comes just four months after the station's launch in March 2012. uGospel Radio broadcasts 24-hours a day, wherever an internet connection is available. The music played on uGospel Radio varies from Traditional to Praise & Worship to Contemporary Gospel, and features both major and independent artists. The radio station will soon feature sermons, talk shows, live interviews and more interactive programs for listeners.
"I feel blessed and favored to have the #4 Internet Gospel Radio Station in the United States. I don't take any of this for granted, I'm just thankful that the Lord is using me to do his work. I also thank everyone who listens to uGospel Radio every day, we appreciate you all," says Khalif M. Townes, President/CEO of Urban Roundup Group, LLC.  (uGospel.com & uGospel Radio)
After the first week of its launch, uGospel Radio was already off to an impressive start. The following statistics were generated during the premiere week: 8,227 total streams launched, 8,500+ total listening hours and an average time of 3.5 hours on the station per listener. The top 10 markets of listeners in ranking order were Philadelphia, New York, Washington D.C., Harrisburg, Atlanta, Raleigh-Durham, Baltimore, Miami, Kansas City, Los Angeles. Also, there were several countries besides the United States with uGospel Radio listeners, including Nigeria, South Africa, United Kingdom, Canada, Australia, Netherlands, Virgin Islands, Jamaica, Bahamas, Sweden, Germany and France.
Currently, uGospel Radio is heard in 74 countries across the world. Within the United states, uGospel Radio can be heard in 133 markets across 42 States according to Geo Tracking Reports.
After being received so favorably by the listeners, uGospel Radio began airing its first on-air radio shows Tuesday, May 29, 2012. The show, titled "Billboard Top 20 Countdown with Y'Anna Crawley", features Stellar Award-Winning Gospel Powerhouse and Sunday Best Season 2 Winner Y'Anna Crawley discussing and counting down the top 20 songs in Gospel Music. The show airs every Tuesday at 3:00 pm EST on uGospelRadio.com.
"When I was presented with the opportunity to host my very own show on uGospel Radio, I was honored to see "My Promise" being fulfilled again. Radio is an area that I've expressed to my manager for some time that I'm interested in tackling. With the expansion of my brand by partnering with Khalif M. Townes and uGospel.com, who is one of the leading internet outlets for news and information for our genre, I'm excited and grateful." said Crawley.
uGospel Radio is also proud to announce the addition of another show to its daily programming. The new show, "In The Praise, In The Worship With Stephen Hurd", will be hosted by Urban Praise and Worship Singer Stephen Hurd. "In The Praise, In The Worship With Stephen Hurd" is Hurd's first radio show, solidifying him as a soon-to-be radio personality.  The show will feature Hurd's selection of Praise & Worship songs as he discusses various related topics. During the three hour show, Hurd will interact with listeners, conduct interviews and premiere new music. It premieres Thursday, August 23, 2012  (more details to come).
uGospel Radio is an officially licensed ASCAP, BMI and SESAC internet radio station. Listeners are guaranteed to be uplifted, entertained and inspired. Tune in now to hear the latest and greatest music in the Gospel Music Industry today.