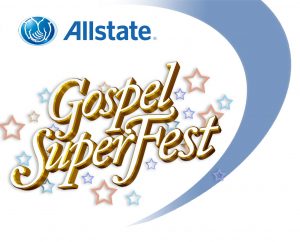 Unity Media Limited, which produces and distributes the world renowned Gospel Superfest Television series, is pleased to announce its broadcast agreement with the TV One Network to air the Allstate Gospel Superfest "A Holiday Special" for the 2016 holiday season.
The show was recently filmed in Baltimore, MD at Coppin State University and features the who's who in gospel music.  Performers include chart topping gospel artists J. Moss, Karen Clark Sheard, Jonathan Butler, Lonnie Hunter & Structure, Beverly Crawford, Jonathan McReynolds, James Hall & Worship & Praise, Tim Bowman, Jr., Dorinda Clark Cole, Alexis Spight, and Patrick Lundy's Ministers of Music.  One of the many highlights of the program includes a tribute to Grammy Award winning superstar Pastor Shirley Caesar who delivers an exceptional performance and receives the show's Lifetime Achievement Award. The two-hour telecast is hosted by noted film and television star, Vivica A. Fox (Independence Day, Kill Bill, Two Can Play That Game).
The show is title-sponsored by Allstate Insurance Company.  The Allstate Gospel Superfest was founded and executive produced by Bobby Cartwright, Jr. and directed by Marie NeJame.  The two-hour presentation will debut on the TV One Network this coming November and air throughout the holiday season.
About Allstate Gospel Superfest
The Allstate Gospel Superfest is one of the nation's largest TV recordings in the field of urban-targeted, inspirational music and entertainment.  Founded in 1998, the show has maintained a consistent presence in broadcast syndication for 16 consecutive years.  Releasing five one-hour specials a year, The Allstate Gospel Superfest is carried by major TV network affiliated stations including ABC, CBS, NBC, FOX, CW, & MYTV.  The production is known for its elaborate staging, trendsetting production and Hollywood styled approach to gospel music television. Allstate Gospel Superfest TV programming reaches millions of TV viewers annually via domestic syndication and Cable.  The show's holiday special was recently picked up by the TV-One cable network. Previous productions have aired on top-tier cable networks including Aspire, Bounce, TBN, Word, Daystar and ION Networks. The Allstate Gospel Superfest is the most widely distributed TV brand in the history of black gospel music. Gospel Superfest is a trade name of Unity Media Limited of Ohio.