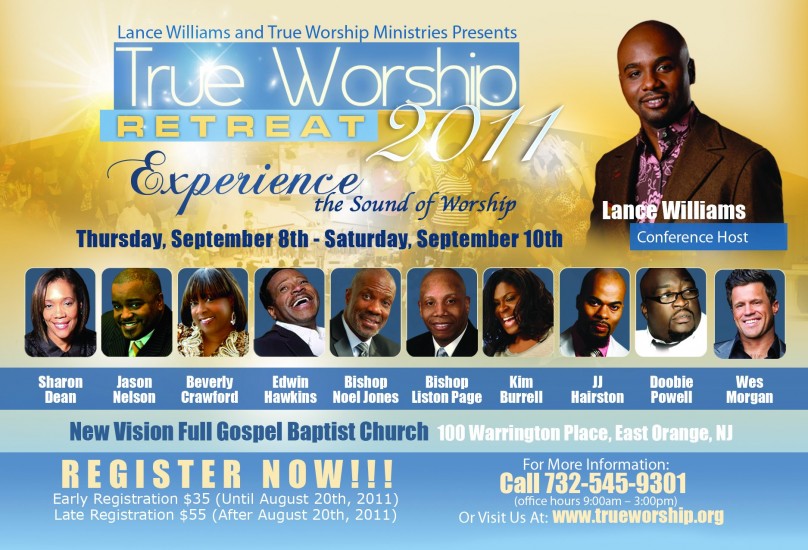 Visionary and Founder, Lance Williams will host the 9th Annual True Worship Retreat at the New Vision Full Gospel Baptist Church in East Orange, NJ on September 8 – 10, 2011. The theme for this year's retreat is "Experience the Sound of Worship," and registered attendees will receive vital instruction on the various aspects of worship, including challenges and resolutions from a ministry and industry perspective.
On Thursday, September 8, Bishop Noel Jones will serve as the opening key speaker along with special musical guest, Wess Morgan. Known as one of the most influential Worship conferences of the year, the True Worship Retreat is a life-changing event that provides an environment rich in education, adoration, and enlightenment.
A worship concert will take place on Friday, September 9, that will feature BET's Sunday Best Mentor, Kim Burrell, JJ Hairston and Youthful Praise, Beverly Crawford and Doobie Powell. During the concert, a tribute to the legendary Bishop Walter Hawkins while also honoring his brother and carrier of his legacy, Edwin Hawkins. "Bishop Hawkins' contribution to the Gospel music industry is vital and we miss him dearly. This tribute will show appreciation for a man gone from us too soon," shares Williams. Concert tickets are only $25 for general admission, in advance, and $35 for VIP. There will be an additional $5 fee for tickets purchased at the door.
This year's retreat includes master worship clinicians Pastor Sharon Dean, Jason Nelson and Bishop Liston Page, just to name a few. With early-bird adult registration at $35 until August 20th and late registration at only $55, thousands of attendees from around the world are expected to attend. Youth registration is only $20 for ages 10-17. Group registration is available by logging on to www.trueworship.org or by calling the True Worship office at 732-545-9301.
On Saturday, September 10, the True Worship New Artist Showcase, sponsored in part by uGospel.com and Gospelcity.com, will be held at 1 p.m., followed by the closing service, both of which are free and open to the public. Bishop Liston Page will serve as the key speaker. Artists participating in the showcase will be critiqued by noted Gospel industry professionals, and the winner will receive a True Worship Retreat prize pack, full of tools needed to succeed as an independent artist.
For additional information about True Worship Retreat 2011 or to register, log on to www.trueworship.org or call 732-545-9301. Interested media should contact Quwania Jai at [email protected] or 347-878-8736.