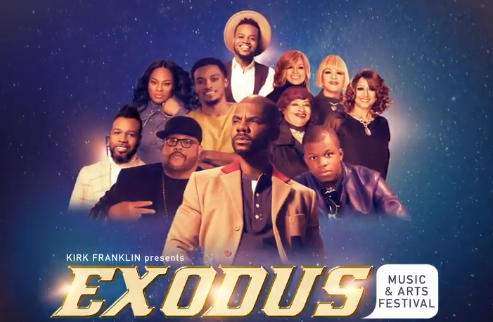 On Sunday (5/26), global music and entertainment streaming platform,TIDAL, will exclusively livestream Exodus Music & Arts Festival in partnership with Live NationUrban from Irving, Texas. The livestream will feature performances from the powerhouse lineup including:Fred Hammond, The Clark Sisters, Tasha Cobbs Leonard, Travis Greene, VaShawn Mitchell, Kelontae Gavin and Gospel star Kirk Franklin.
Beginning at 5pm CDT, fans across the globe can tune into TIDAL.com/ExodusFestival.Media will be able to embed the livestream using the code here:http://tdl.sh/EXODUSMUSICFEST
"This year's festival will be even greater than last year's and the performers will blow you away!" said Festival headliner and creator, Kirk Franklin. "We are excited to partner with TIDAL and share music from our spiritual lineup to not only the community in Texas, but the gospel audience globally."
Earlier this year, Kirk Franklin's Exodus Music & Arts Festival partnered with TIDAL for an exclusive three-day presale. He has previously collaborated with the platform on the 2018 livestream of TIDAL X: The Concert for Peace and Justice.
The livestream adds to the growing list of content that TIDAL offers – from albums and singles to original video content, concert giveaways, unique events, and artist meet & greets – TIDAL is the destination for fans to connect with their favorite musicians