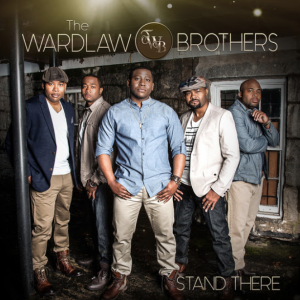 Tony, Martin Luther, Jamie, Carl and Rodney are the five harmonizing Wardlaw siblings from Lyons, GA who over the past few years have been giving the Gospel Quartet genre a contemporary sound, with a fashionable swag, while ministering the undeniable, unchangeable Word of God.  In follow up to the huge successes of their GOD'S BEEN THERErelease in 2013, The Wardlaw Brothers (TWB) have released their highly anticipated STAND THEREalbum in the midst of some of their most challenging times.  But, faith and perseverance have manifested through family restoration and their first #1 Billboard Album.
STAND THERE snags the #1 Billboard Top Gospel Albums spot this week and the #5 position on the Top Christian/Gospel Albums Chart.  STAND THERE is produced and written by Martin Luther Wardlaw and includes Grammy®, Dove and Stellar Award winning songwriter Fred Hammond on "Heaven" and The Rose of Gospel  Dorinda Clark-Cole on "Highest Praise".  This marks the brothers' fourth album released under their own indie label TWB Records.
TWB's current Top 30 Gospel Radio single "God Has Kept Me" is a powerful song that was written to  encourage anyone going through tough times.  The brothers have also released the official music video for the single that outlines the story of the four Wardlaw Brothers pressing onward as the family supported their eldest brother Tony Wardlaw through a most uncertain time.
"God Has Kept Me" is directed by film-maker Aaron Williams (On Angels Wings, Preaching To The Pastor, Mama I Want To Sing) and premiered and was added to rotation on BET HER and on Aspire TV this month.  This emotionally gripping video chronicles the real life fight for freedom, trial and court case of brother Tony and the challenges endured by the entire Wardlaw family throughout this  2-year ordeal.
"God Has Kept Me is my personal testimony that I hope will inspire and encourage anyone going through a crisis," Tony explains.  "I've been through an overwhelming storm that took me away from my family and I know that only God was the one who removed the shackles, opened the cell door and healed when all hope seemed to be gone," he transparently continues.  "My brothers and I have chosen to tell our story in this video and through it send a message of reassurance that God will keep his promises and will keep you!"
TWB's poignant album is masterfully written and produced but serves as their evangelism tool to minister hope and healing through stories that so many people are dealing with today. The brothers are a living testimony that God keeps His promises and will restore any situation that we may face.