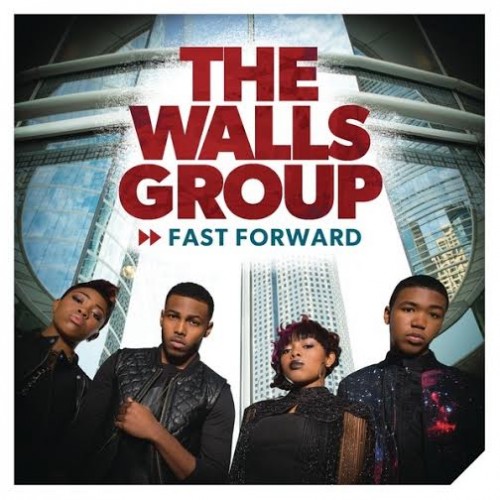 Released today, FAST FORWARD the highly anticipated new album from The Walls Group locks the #1 spot on the iTunes Christian/Gospel chart. Executive produced by multi-platinum gospel star Kirk Franklin, FAST FORWARD features 10 tracks of modern, up-beat and progressive music with strong gospel influences. FAST FORWARD is available everywhere music is sold.
Inspired by the group's multi-generational appeal, Kirk Franklin wrote and produced 8 of the album's 10 songs and appears on the compelling track, "Beautiful." Eldest member of the group, Darrel also showcased his pen, writing two tracks featured on the project, "Great Is Your Love" and "Freedom." The album includes power collaborations with R&B artist Brandy on "God On My Mind," and popular Christian rapper Lecrae on "High."
The talented Houston-based siblings, Ahjah (16), Paco (18), Rhea (19) and Darrel (23) have been on the fast track to success that includes being the first act signed to Kirk Franklin's Fo Yo Soul Recordings /RCA label, receiving over a million views on Vevo for their first single "Perfect People," and going on a national tour with gospel phenom, Tye Tribbett—but the group remains humble. The whole group co-signs the soul-searching single "Satisfied," saying it reminds them to keep their eyes on the true prize. "If I never get that house, that car / Or be a superstar / And my dreams, never come true / Will I be satisfied with You?"
The CD single, "Love On The Radio" is currently #10 on the Christian/Gospel Chart and climbing. The new video for "Love On The Radio" debuted last week on Vevo and has already received more than 20,000 views.
FAST FORWARD is undeniably a testament to the unique talent of The Walls Group. More importantly to the group, however, this project stands as a sonically rich and spiritually uplifting testimony. Darrel explains, "We say it all the time. This album is an album of messages. There's a message in every song that's needed for somebody. If you feel some kind of way about your life, there's something on this record that will help you."
The Walls Group, along with label-mate Tasha Page-Lockhart, completed a stint as opening acts on the highly successful "Kirk Franklin Presents Tye Tribbett Tour." The House of Blues series covered 12 dates in the month of July, including sell-outs in New York and Philadelphia. Currently, The Walls Group is performing across the United States in support of FAST FORWARD.
Fast Forward Track List:
1. Intro
2. Love On The Radio
3. Big Brother
4. Great Is Your Love
5. Satisfied
6. God On My Mind (Feat. Brandy)
7. Freedom
8. Paco's Interlude
9. High (Feat. Lecrae)
10. Perfect People Interlude
11. Perfect People
12. Beautiful (Feat. Kirk Franklin)
13. Anything And Everything