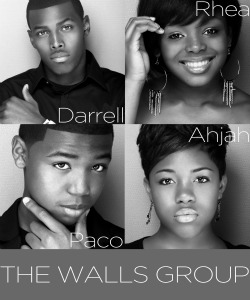 From deep in the heart of Texas comes a new generation of gifted kinfolk! The Walls Group –   Darrel, Rhea, Paco and Ahjah are the singing four of eight children born to Roger and Alicia Walls.  With musically inclined parents, these kids could not escape the melodies and harmonies that coursed throughout the household and seeped into their souls.
The Gospel music industry has embraced the siblings' extraordinary vocal and music abilities.  With such anticipation for their national self-titled debut CD release, the young singers are busy with appearances and are adapting to the fast-paced demands as they aspire to launch their music ministry.
The Walls Group project includes worship, contemporary gospel and a blend of urban pop and will be available on iTunes June 12.  The project features the hit single "Mighty You Are" and features a guest appearance by power-house vocalist Nikki Ross on the soulfully charged song "Yes".  The young singers bring music alive with their charming charisma and stage presence and are completely capturing the hearts of music fans.