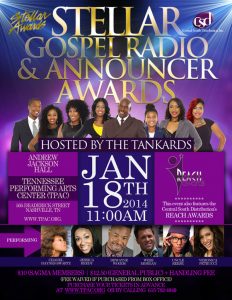 Central South Distribution presents THE STELLAR GOSPEL RADIO AND ANNOUNCER AWARDS. The mega event will be held during Stellar Awards week on January 18th, 11:00AM at the Tennessee Performing Arts Center (TPAC), 505 Deaderick St., Nashville, TN.
This year the ceremony will be hosted by the cast of THE TANKARDS: THICKER THAN WATER.  Multi-Award winning Gospel Jazz pioneer Ben Tankard and his family star in this all new docu-series on Bravo TV .  The Tankards will be introducing a power packed line up of performers including Chanel (from Trinitee 5:7), Jessica Reedy, Dewayne Woods, Wess Morgan, Uncle Reese and Veronica Petrucci.
This event also features the Central South Distribution's REACH AWARDS.  Chuck Adams is the visionary for the Central South Distribution "Reach Awards" (Radio Everywhere Announcing Christ Is Here).  In 2006 Chuck and his team conceptualized the REACH AWARDS in an effort to celebrate gospel music radio and its many unsung announcers for untiring work in the delivery of gospel music to the masses.  The REACH AWARDS recognizes the accolades and achievements of radio announcers during the week where gospel music fans gather to acknowledge the best and brightest in Gospel music – Stellar Award Weekend.
Central South Distribution has been servicing the Gospel and Christian community for nearly four decades. They are the #1 Independent Gospel Distributor, and the World's Largest Distributor of Gospel Music. Central South distributes Gospel Music to all of the top Gospel, CBA and Mainstream Accounts including, other distributors, chain stores and independent retailers.