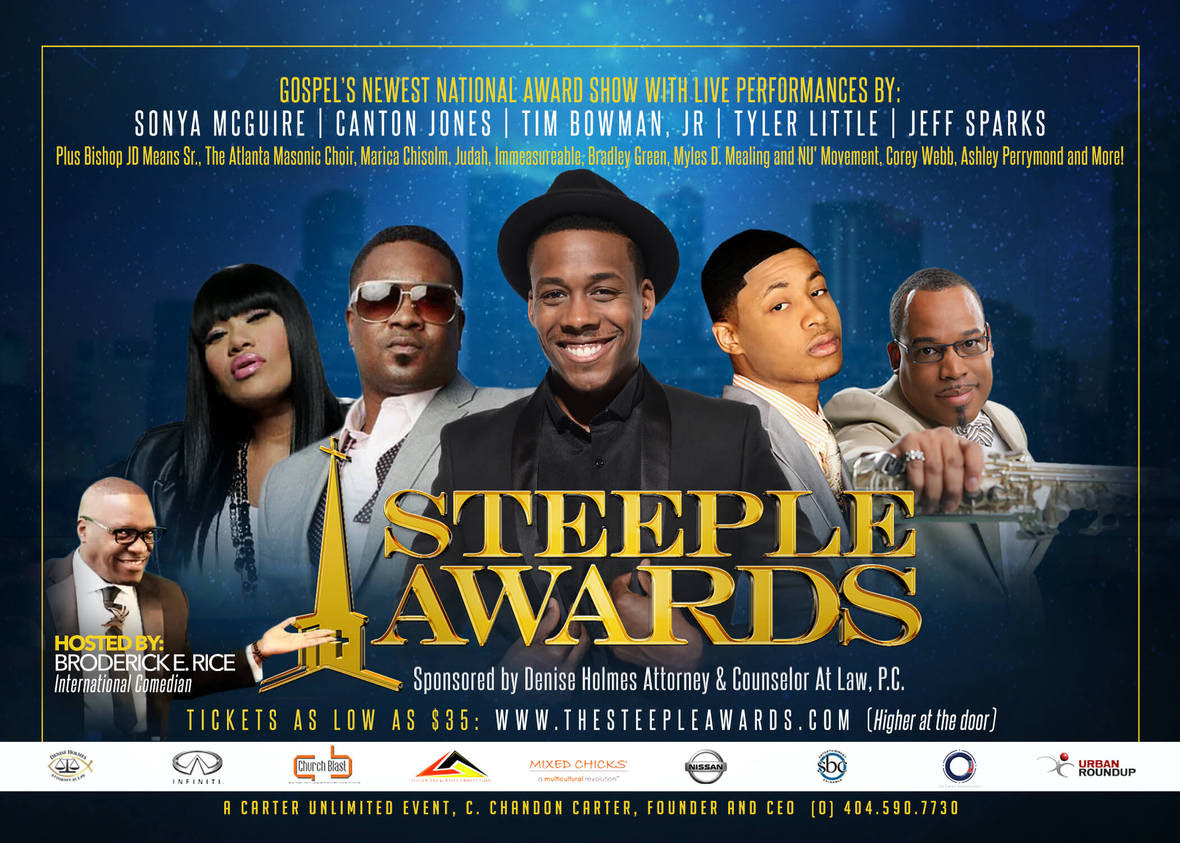 On Saturday, March 19, 2016 at 3 p.m. The Steeple Awards makes Atlanta its gathering place for a special night of praise, worship, and celebration. All roads lead to Siloam Church International at 3695 Roosevelt Hwy, where "the biggest day in Gospel music" will be launched and men and women of God will come from all over the country to celebrate each other. This uplifting event is an award show that upholds integrity and the love of Christ. "We are honoring those who are honoring Christ", says C Chandon Carter, the award show Founder and Carter Unlimited CEO. This star-studded event will showcase mainstream and independent Gospel artists and recognize anointed men and women of God.
Internationally known comedian Broderick E. Rice (The Funniest Man on This Side of Heaven https://youtu.be/W6LXI0xlGRQ?t=23s) will serve as the host and the audience will be treated to performances by national recording artist, Tim Bowman Jr., who will sing his #1 Gospel Billboard hit single, "I'm Good" (https://youtu.be/H0fQP-YHaCE). Sunday Best alums Corey Webb from Season 1 and Tyler Little from Season 6 will also be on hand to bless show goers with their ministry gifts. Preachers of Atlanta cast mate, Canton Jones (I AM JUSTICE New Album https://youtu.be/tvXDNXj9yGo) and Gospel singers Immeasureable, Sonya McGuire, saxophonist Jeff Sparks and many others will also bless show goers. Special invited guests and award show nominees include Gospel all stars Kirk Franklin, Marvin Sapp, Tasha Cobbs, Richard Smallwood, Le'Andrea Johnson, The Walls Group, Anthony Brown & Group Therapy, Bishop William Murphy III, and Comedian Karlton Humes as well as the cast of Preachers of Atlanta.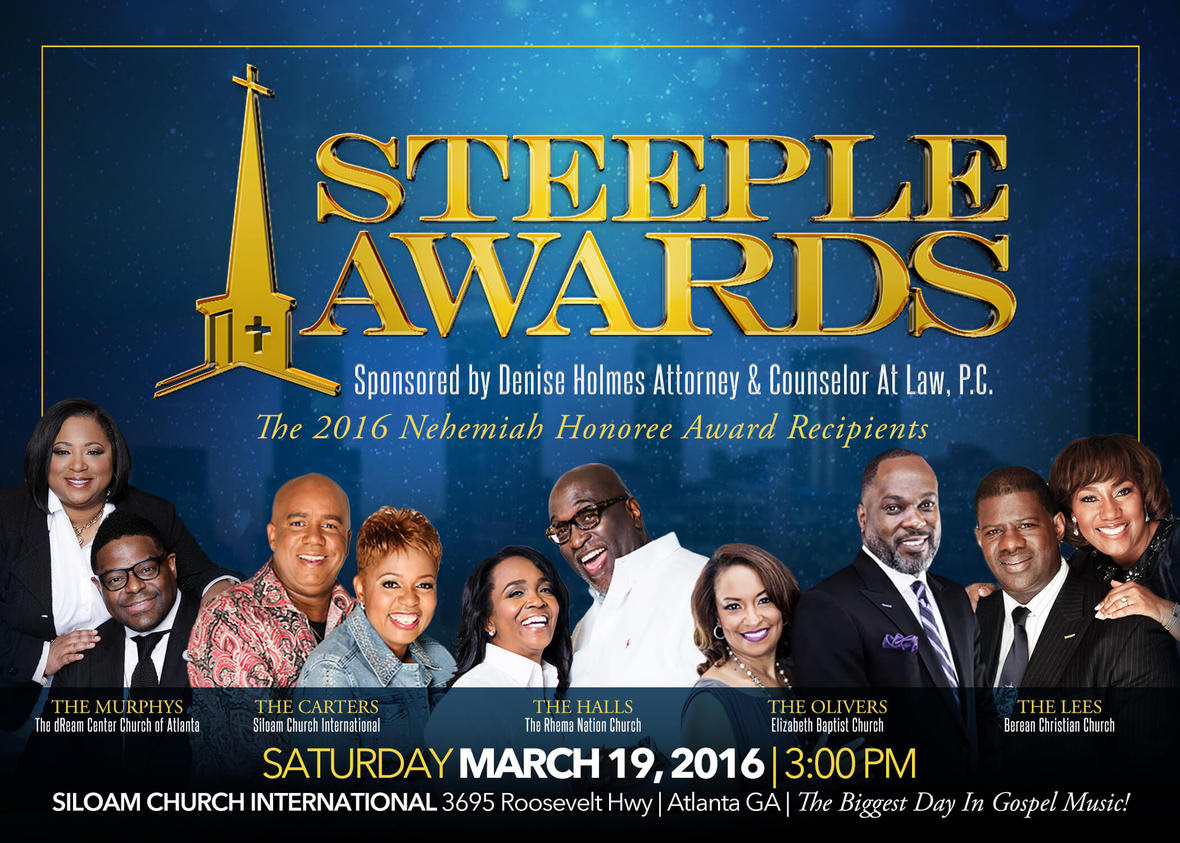 Gospel's newest national award show is coming to Atlanta with Holy Ghost power to acknowledge some of those who work tirelessly building the kingdom of God, edifying God's people, and walking in their purpose. America is excited about this inaugural celebration and looks forward to a sold out gathering. The Steeple Awards is a Carter Unlimited event created by CEO, C Chandon Carter. The 2016 Steeple Awards Staff includes Branding Director, Rahru R. Arceneaux of Haute Choc'lat Multimedia Group, and Public Relations Director, Ronnika Ann of inGENEus PR. It is produced and directed by The Anchor & Company and Pamela Johnson of SangChile Entertainment as Assistant Director.
Gold Sponsors: Infiniti of South Atlanta, Mixed Chicks Hair Products, Lucier Tax and Asset Protection, and uGospel.com,FMI and Tickets, visit TheSteepleAwards.com.
ease join us in celebrating the men and women of God at the inaugural presentation of the Steeple Awards On March 19, 2016 for the 3:00 pm Red Carpet Affair followed by the Award Show at 5:00. The Award Show will be held at Siloam Church International, 3695 Roosevelt Hwy, Atlanta, GA 30349. FMI and Advance tickets please visit our website, www.TheSteepleAwards.com