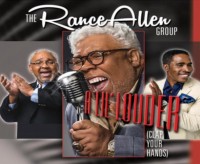 Let The Rance Allen Group take your praise to new heights with the NEW video release of their catchy single, "A Lil' Louder," that uniquely merges Gospel music, hip-hop dance and the American Sign Language (ASL) community.
Directed by Mangiardi Films, a video production company owned and operated by hearing impaired producers, "A Lil' Louder" video is not only a celebration of God's grace but also it provides the perfect example of the depths of God's presence across diverse communities. "From the video storyline to working with the ASL community and the dancers, the video allowed us to incorporate different cultures and generations and bring the Gospel to where they are," said Rance Allen.
Along with his legendary moves, dubbed the "Rance Allen shuffle", Allen and his brothers can be seen incorporating sign in their stage choreography throughout the video.
"For years, The Rance Allen Group have broken barriers in non-conventional settings," said Sidney Scott, A&R Director, Tyscot Music & Entertainment. "So to make a conscious choice to incorporate the ASL community in the "A Lil' Louder" video and actually sign the Gospel was a natural progression for them. They are becoming all things to all people without compromising the integrity of their music, message and more importantly, the Gospel."
Making its debut in November 2014, the single rested in the Top 15 on the Billboard Gospel Airplay Chart for 23 weeks. "A Lil' Louder" is the first single from the Celebrate CD, which debuted in the Top 10 on Billboard's Gospel Albums chart.
"A Lil' Louder" video features choreography and dancers by Krash Krew.