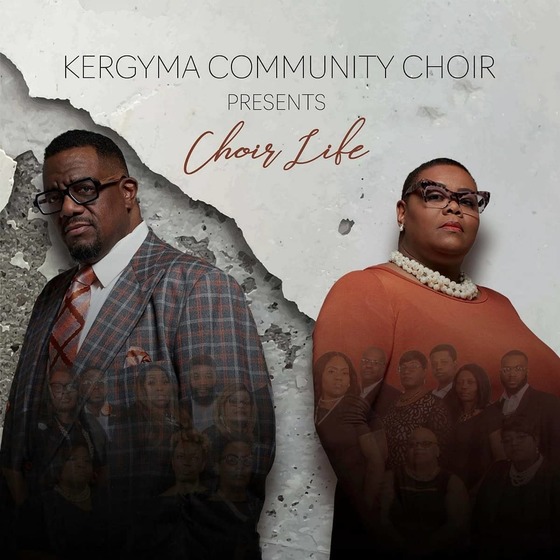 The Kergyma Community Choir  is representing all things Choir Life!  For almost 20 years, they have been lifting their voices as a unified  vessel in ministry and representing the black Gospel choir at its finest.  Under the leadership of founders and choir directors Arnold Johnson and Gwendolyn Williams, the ensemble has released independent award-winning albums.  In 2019, Kergyma signed to Enon Music Group (EMG) record label to release and distribute their future albums globally.
Kergyma released their CHOIR LIFE EP last year, and their CHOIR LIFE: DELUXE VERSION was released this summer.  The album is a collection of 10 Gospel choir songs, from traditional churchy tunes to contemporary worship songs.  The album includes their rendition of the classic favorite "My Mind's Made Up" written by Darius Brooks.  Kergyma recently won the 15th Annual Holla-Back Excellence Award for 2021 Gospel Song of the Year for "My Mind's Made Up".  The Holla-Back Excellence Awards honors those in Connecticut who use their talents to improve and positively represent the community.  
CHOIR LIFE: DELUXE VERSION also includes Kergyma's current radio single "I Do Don't You" featuring Darnell Williams of the popular quartet group The Williams Singers.  "I Do Don't You" is the brilliant collision of a mass choir intersecting with a roots quartet to create a feel-good swagger and sway.  "I Do, Don't You" is rising on the Mediabase Gospel radio charts – #60 and BDS Gospel radio charts #102.  The song is one of only seven songs from choirs currently in the top 60 on the Mediabase chart. 
"I Do, Don't You is one of the most moving choir songs of 2021," says Dave Dickinson of Sirius XM's Kirk Franklin's Praise.
Kergyma will premiere the official music video of "I Do, Don't You" on Enon Music Group's YouTube channel Friday, Oct 15 at 7:30PM EST.  The video is filmed in Connecticut with Kergyma exemplifying their genuine performance charisma.  Audiences can immerse themselves in Darnell Williams' soulful voice and experience this award-winning choir again and again.