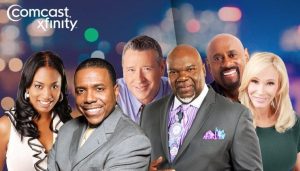 The Impact Network, the only independent African American-owned and operated Christian television network in the U.S., will be available in more homes on Comcast's Xfinity TV. The network features programming on urban ministries and gospel lifestyle entertainment.
"We're excited about the commitment Comcast has made to continue to increase diversity in all communities and to the African American community by expanding distribution of The Impact Network," said Bishop Wayne T. Jackson, Founder and CEO of the Impact Network.
The Impact Network's mission is to provide exceptional Christian and educational programming. It empowers the spiritual, physical, financial and emotional needs of the community and viewers. The network line-up includes television ministries by Impact Founder & CEO Bishop Wayne T. Jackson Bishop TD Jakes, Dr. Creflo Dollar, Pastor Paula White, Pastor Rod Parsley, Bishop IV Hilliard, Bishop Charles Blake, Bishop Stanly Williams, Bishop Paul Morton, Bishop Henry Fernandez, Pastor Joel Olsten and more. It also offers original programming like Dr. Beverly Jackson's "Living Free," "The Jewel Tankard Show," legendary gospel icon Bobby Jones, "Impact Better Health/Diet Free Life" with Dr. Robert Ferguson, and much, much more.
It enriches viewers' lives with Christian-themed and family-oriented health, fitness, financial, and family entertainment. The Impact Network strives to be the foremost innovative television network locally and abroad with exclusive programming.
About The Impact Network:
The Impact Network was founded in 2010 by Bishop Wayne T. Jackson and Dr. Beverly Jackson in Detroit, Michigan and is the fastest growing African American-owned and operated independent Christian television network in the U.S. with diverse family-oriented programming. Expanding on Comcast's Xfinity TV, The Impact Network will reach over 75 million households in the United States, Africa, The Bahamian, and Virgin Islands on various distributors.