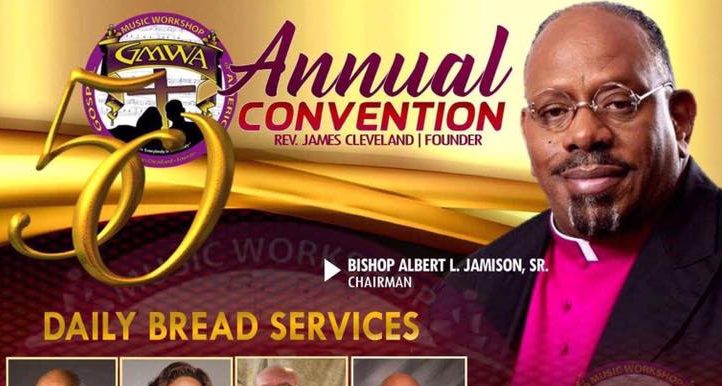 The Gospel Music Workshop of America, Inc. is celebrating it's 50th Anniversary.  The Annual Convention is being held at the Hyatt Regency Atlanta Hotel in Atlanta, GA,
July 22-29, 2017
. It was announced today by the GMWA.
GMWA is the largest gospel music convention across the United States and has a proven track record for producing major artists.  GMWA has academic courses that teach the art of music including song writing techniques and more.
Each year Bishop Albert Jamison and the Gospel Music Workshop of America strive to make the convention better than the year before. This year will be no different.  Bishop Jamison and the GMWA Board Members are welcoming a great line up of notable speakers for the 50th Daily Bread Sessions including Bishop Eric Figueroa, Rev. Dr. james Forbes, Dr. Todd M. Hall, Bishop Paul Morton, Dr. Craig Oliver, Sr., Dr. T.L. Penny, Dr. Melvin Wade, and Dr. Jasper Williams, Jr.
In celebration of 50 glorious years, there will be a Gala on
Monday, July 24th
to kick start the week long festivities.  Nightly, there will be musicals with a Tribute to the King Mega concert
on Friday
evening closing out the incredible celebration that will include the James Cleveland Singers Reunion, La Messenger Reunion choir, Luther Barnes and the James Cleveland Chorus.  Additional industry greats such as gospel giant, John P. Kee, will be on hand throughout the week to help commemorate this auspicious occasion.
This year's convention will focus on the accomplishments of GMWA over the past 50 years and will go down in history as one of the greatest celebrations ever!