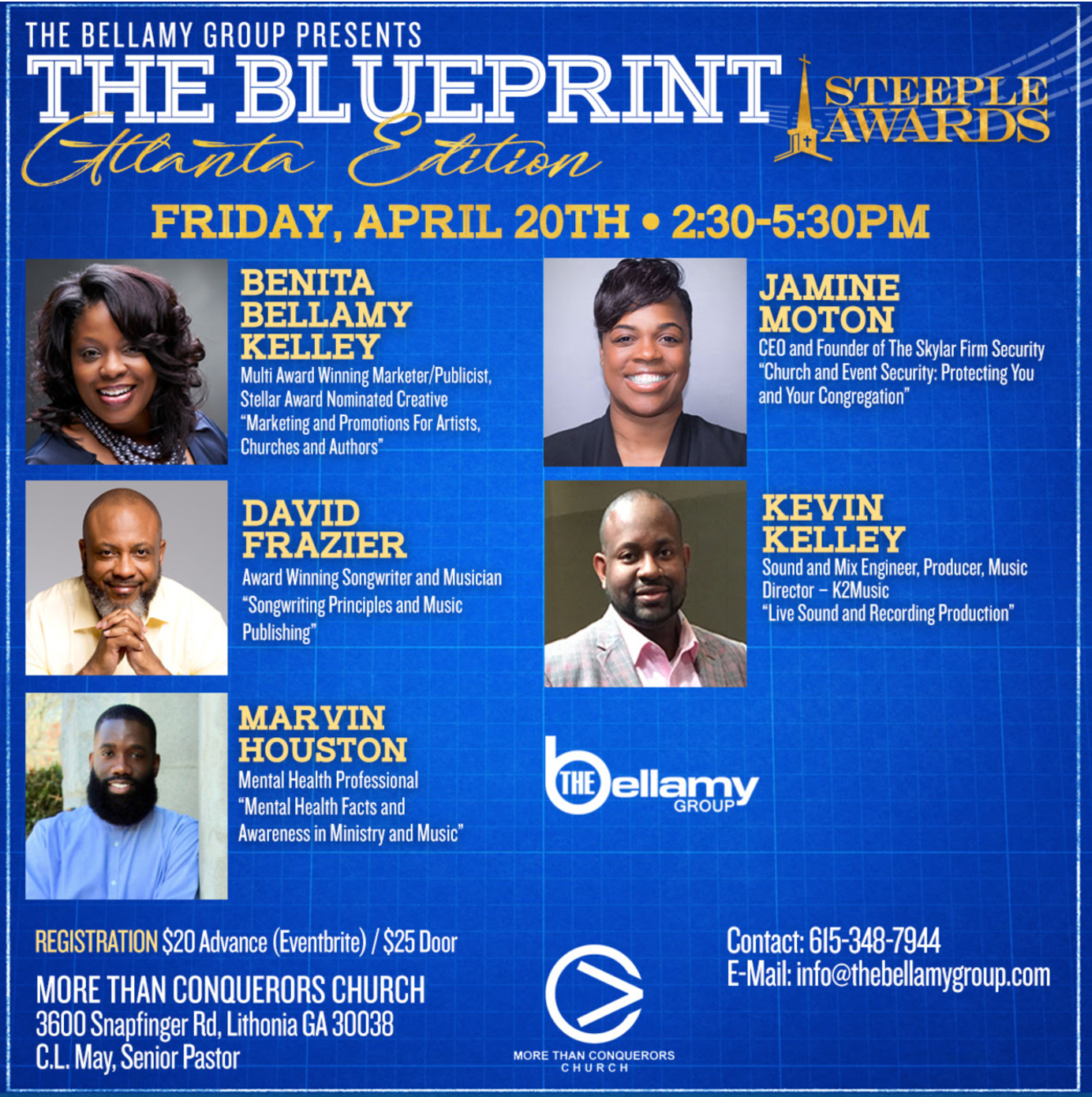 THE BLUEPRINT is a masterful series of Music Business and Faith-based Marketing sessions developed by The Bellamy Group Marketing and Publicity Agency.  
THE BLUEPRINT is now headed to ATLANTA! THE BLUEPRINT: Atlanta Edition will be held during the 3rd Annual 

Steeple

Awards Weekend 

April 20-21

.  
The Blueprint creator BENITA BELLAMY will lead the session and teach a class on "Marketing for Artists, Churches and Authors".  Benita's marketing session will tap into key elements of marketing and promotions with a guide of strategies and industry practices.  Benita will share information on product registrations, social media strategies and tips on monetization, best advertising mediums and budgeting, and developing innovative promotions and creative cost affective assets.
Along with class sessions on Songwriting and Music Production, The Bellamy Group has added two new topics for the THE BLUEPRINT: Atlanta Edition.  Jamine Moton joins the team to offer sessions on Security and Protection services for artists and churches and Marvin Houston will bring critical information on Mental Health Wellness.  
Meet THE BLUEPRINT: Altanta Edition Team:
DAVID FRAZIER has a career in music ministry for over 20 years and has written over 80 songs.  The Los Angeles Times called David "One of Gospel Music's most successful and consistent songwriters".  David has written hits for Bishop Hezekiah Walker ("Power Belongs To God", How Much We Can Bear", "I Need You To Survive") and is a 3X Stellar Award Song of The Year nominee and a 2X Dove Award Nominee for Traditional Song of the Year.  David will explain valuable information for music publishing guidelines and tips on songwriting in his session "Songwriting Principles and Music Publishing".
JAMINE MOTON is the CEO and founder of The Skylar Firm, a private security company based in Atlanta, Georgia.  Moton has over 15 years of law enforcement and private security experience having served with Metro Atlanta Police Department and as founder of her own security company. The Skylar Firm has emerged as the next generation of security services focusing on customer service and hospitality by using technology, brand centered deliverability and communication to assure customers are engaged, procured, managed and represented by expert and holistically conscious Officers called to protect them.
Ms. Moton's session is "Church and Event Security: Protecting You and Your Congregation"  She will offer an indepth session on the best practices and standards for effectively securing your church, congregation and/or event.  From parking lots and traffic, to high profile personnel/guests and financial transactions, Moton will outline procedures and resources for establishing safe and efficient environments for a small staff or a large crowd.
Producer, Sound Engineer and Music Director KEVIN KELLEY is set to deliver his popular session on"Live Sound and Recording Production" and will have a live demonstration of Avid® Pro Tools Software.  Kevin is the man behind the album mix of many of Gospel's leading artist including Bishop Paul Morton, VaShawn Mitchell, Milton Biggham and Troy Sneed.  He is a highly sought after drummer having played with Dennis Edwards & The Temptations, Yolanda Adams, Kurt Carr, Donnie McClurkin, Tony Bennett and Ramsey Lewis. Kevin is also the 1st Assistant Youth Department Supervisor and Music Supervisor for The National Convention of Gospel Choirs and Choruses (The Thomas Dorsey Convention).
– 27% of congregants on any given Sunday are dealing with mental illness (family or individual). (Rogers, Stanford, Garland. Mental Health, Religion & Culture 2017).
– 66% of pastors rarely or never talk about mental illness from the pulpit. (LifeWay Research, 2016).
– One in five people in church will suffer from mental illness in their lifetime. (LifeWay Research, 2016)
We all have been directly or indirectly impacted by mental health issues, either in our family or someone we love. With so many individuals being impacted, we must understand basic knowledge to handle these issues effectively and offer support to individuals struggling in the church. 
MARVIN HOUSTON
, a Mental Health Professional in Atlanta, GA will address these facts and myths, share statistical and clinical data and offer a holistic insight to Mental Health and Wellness in his session
"Mental Health Facts and Awareness in Ministry and Music".
For more information on THE BLUEPRINT: Atlanta Edition or to schedule a BLUEPRINT Session in your city, c
ontact: 615-348-7944 / 

[email protected]

.  
Look for forthcoming BLUEPRINT sessions coming to Washington, DC on 

May 12

 and this summer in St. Louis, MO and Dallas, TX.