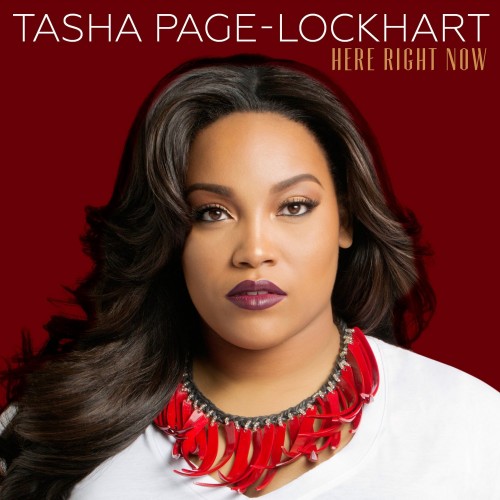 Fo Yo Soul Recordings / RCA artist and current winner of BET's Sunday Best,Tasha Page-Lockhart, released her debut album, HERE RIGHT NOW, on August 5, 2014.  The album's first week sales were strong with it being the week's top-selling gospel album digitally (on iTunes and Amazon) and the third highest selling gospel CD according to SoundScan.
The Detroit-based singer / songwriter, who is the first female act signed to Fo Yo Soul Recordings / RCA, is no stranger to success. Having won the sixth season of BET's Sunday Best, the singing competition executive produced by Kirk Franklin, Tasha holds the distinction of having received the most votes of any previous winner on the popular television show.
Executive produced by multi-platinum gospel star Kirk Franklin, HERE RIGHT NOW sonically captures Tasha's journey away from a dark past laced with sexual and drug abuse to a life blessed by God's saving grace and renewed purpose.   The triumphant, 11-track offering deeply displays Tasha's compelling vocals and includes features by her mother, gospel singer Lisa Page Brooks, and Maroon 5 band member, P.J. Morton.  HERE RIGHT NOW is available everywhere music is sold.
Tasha Page-Lockhart , along with label-mate The Walls Group, completed a stint as opening acts  on the highly successful  "Kirk Franklin Presents Tye Tribbett Tour."  The House of Blues series covered 12 dates in the month of July, including sell-outs in New York and Philadelphia.  Currently, Tasha Page-Lockhart is performing across the United States in support of Here Right Now. She has upcoming appearances in cities including Nashville, Detroit, and St Louis.
Here Right Now Track List:
1. Here Right Now
2. Fragile
3. Yours (feat. PJ Morton)
4. Welcome
5. Different
6. I'm Living (feat. Lisa Page Brooks)
7. Faith Come Alive
8. Life
9. Just A Little Bit (feat. Kirk Franklin)
10. Fragile (Reprise)
11. Best Work