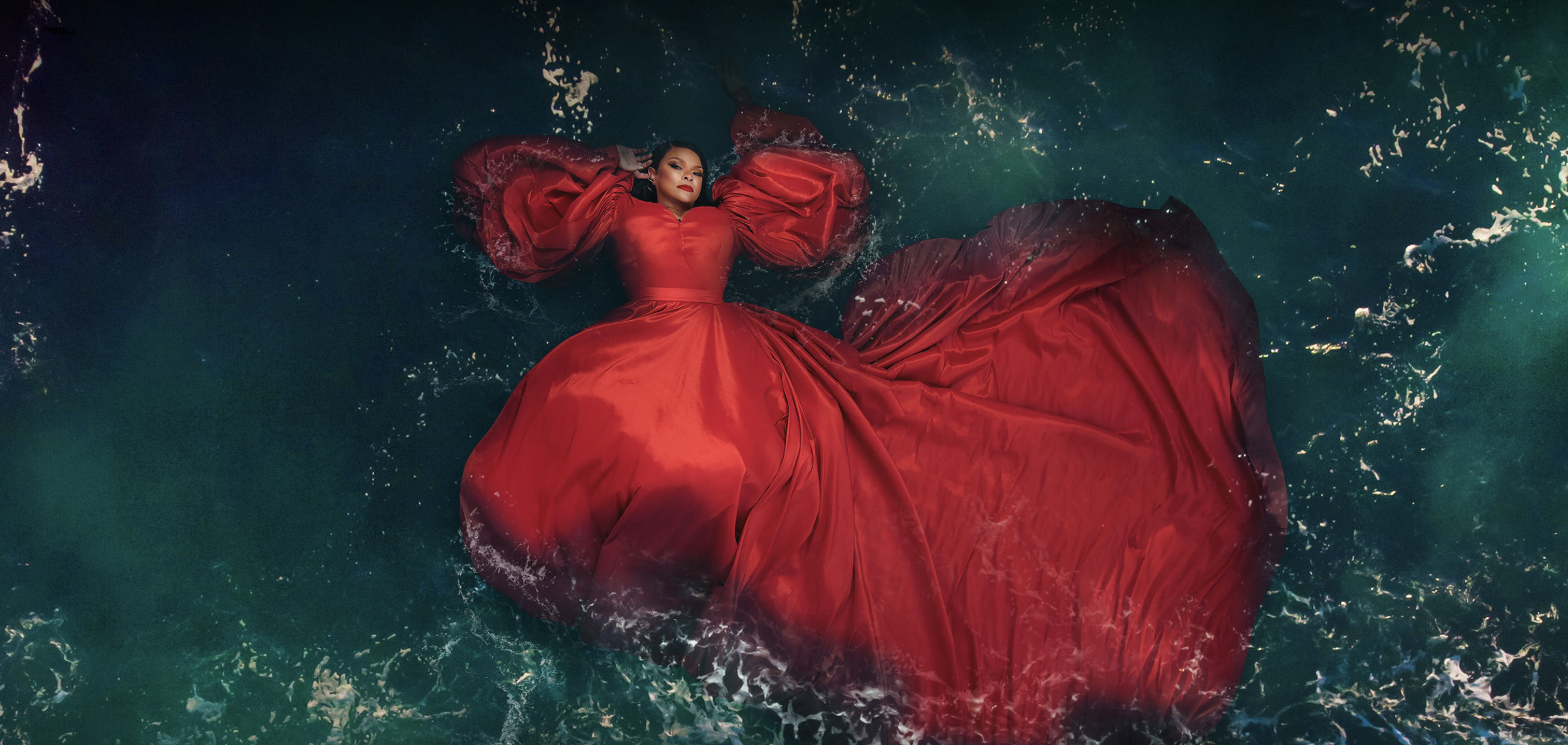 This weekend, GRAMMY® Award-winning Gospel star Tamela Mann was named both the Contemporary Female Artist of the Year and the Albertina Walker Female Artist of the Year at the 37th Annual Stellar Gospel Music Awards held in Atlanta, GA. Tamela's son, David Mann Jr. also took home the award for Music Video of the Year, for his creation of the music video for Tamela's hit song "Help Me," featuring The Fellas from her album Overcomer. Tamela's highly anticipated Overcomer: Deluxe Edition album will release digitally across all major streaming platforms this Friday, July 22nd and is available for preorder now here.
Additionally, this past Friday a special ceremony was held to celebrate Tamela, who was presented with the Crown Jewel of Excellence at the world-renowned Black Music and Entertainment Walk of Fame (BMEWOF). A joint initiative by the Black American Music Association (BAMAssoc) and Georgia Entertainment Caucus (GEC), the BMEWOF honors iconic individuals and organizations that have impacted Black culture and community alongside those who continue to lead us into the future. The Crown Jewel of Excellence emblems are permanently installed on Martin Luther King Jr. Drive, in front of the Mercedes-Benz Stadium in historic downtown Atlanta, GA, where they are preserved to be seen by generations to come. Other inductees this year included Prince (Legacy), NAS (Hip Hop), Bob Marley (International), Patti LaBelle (Legacy), RUN DMC (Foundational), Steve Harvey (Mogul), Angela Bassett (Actress), Charlie Wilson (Mainstream), The Clark Sisters (Gospel Group) and more.
Heralded as some of the superstar's best work, Overcomer: Deluxe Edition builds upon the original version's themes of resilience, strength, purpose and the beauty of faith, with an offering of both all new tracks and intimate live renditions of fan favorites from Overcomer. Tamela recently made history as the first gospel artist to chart nine No. 1 singles on Billboard's Gospel Airplay chart, with single "He Did It For Me" taking the top spot. Overcomer: Deluxe Edition will be distributed by The Orchard, and available as a digital release across all major music streaming platforms this Friday, July 22, 2022.
Overcomer: Deluxe Edition is the latest accomplishment in Tamela's storied career. An accomplished songwriter, producer, actress, and businesswoman, Tamela has amassed a Grammy® Award, BET® Award, Billboard® Music Award, and multiple NAACP Image® Awards and Stellar® Gospel Music Awards. Her Billboard No. 1 album Best Days includes the No. 1 platinum single "Take Me to The King" and received Billboard's "Album of the Decade" for 2010-2019, in the Gospel category. Tamela's Billboard No. 1 album, One Way, garnered two No. 1 singles, including "Change Me" and "God Provides," which earned the singer her first Grammy® Award in 2017. In 2018, Tamela and her husband, NAACP Image® Award winning actor David Mann, released their first book and joint album, Us Against the World. The book won an NAACP Image® Award for Outstanding Literary Work and the album continues to garner top-charting singles including the Urban AC track, "Ups & Downs." Tamela and David together helm Tillymann Entertainment. They starred in the NAACP Image® Award-winning docu-series "The Manns," the hit comedy "Mann & Wife," and are currently starring in "Tyler Perry's Assisted Living" and "Mann Family Dinner" on their MANNTV YouTube channel. Tamela's athleisure apparel and shapewear line, the Tamela Mann Collection, is available at TamelaMann.com and in select retail stores.
Overcomer: Deluxe Edition Track List:
1.      Help Me (Live) feat. Tim Rogers and The Fellas
2.      Finished Work feat. Todd Dulaney
3.      He Did It for Me (Live)
4.      Final Answer (Live)
5.      Finished (Live)
6.      I Am
7.      Source
8.      Hello God feat. Wyclef Jean and Kirk Franklin
9.      Conqueror
10.    Superheroes Prayer feat. Yolanda Adams
11.    Touch From You
12.    Forever Yours
13.    Overcomer
Production Credits:
Executive Producers: David Mann Sr, Tamela Mann, Tillymann Music Group Inc.
Producers: David Mann Sr., La'Tia Mann, Justin Pearson
Produced by: Kirk Franklin, Philip Bryant, Jevon Hill, Travis Greene, Dontaniel Kimbrough, Todd Dulaney, Shaun Martin, Rickey "Slikk" Offord, Stanley Green, Tamela Mann
Tamela On Tour
8/2               Kansas City, MO
8/4               Cleveland, OH
8/6               St. Paul, MN
8/7               Chicago, IL
8/21             Columbus, GA
9/2               Richmond, VA
9/3               Raleigh, NC
9/4               Greenville, SC
9/8               Buffalo, NY
9/9               NY/NJ
9/16             Washington D.C.
9/17             Philadelphia, PA
9/22             Indianapolis, IN
9/23             Chicago, IL
9/24             Detroit, MI
9/30             New Orleans, LA
10/1             Mobile, AL
10/2             Montgomery, AL
10/6             Jackson, MS
10/7             Memphis, TN
10/14           Charlotte, NC
10/15           Columbus, GA
10/16           Macon, GA
10/21           Baton Rouge, LA
10/22           Shreveport, LA
10/28           Nashville, TN
10/29           Atlanta, GA
10/30           Birmingham, AL