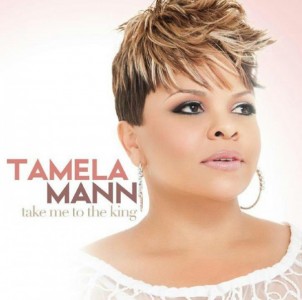 Tamela Mann, actress, NAACP Image Award Nominee and Dove Award-Winning singer for Traditional Gospel Album Of The Year, is set to deliver another musical gift to the body of Christ. On August 14, 2012 Mann is scheduled to release her sophomore project, Best Days, via TillyMann Music Group, Inc. Those unfamiliar with her singing career may recognize Mann from her reoccurring roles in numerous Tyler Perry productions. Many of which she stars alongside her husband, David Mann, who plays the quirky Mr. Brown.
"I want to present music that people can be blessed by and that can be healing," says Mann. "We have to put music out to keep people encouraged and keep lifting the body of Christ up, and even the ones that haven't become Christians. We need to encourage them that the best thing that they could ever do is become a child of God."
The lead single from Best Days, "Take Me To The King", is already making its mark on Gospel radio. The expected hit song has reached the top 20 on Billboard's Top Gospel Songs Chart, and continues to ascend. "Take Me To The King" was written and produced by Top-Selling Gospel Recording Artist, Kirk Franklin, who is also a good friend of Mann. A majority of Best Days was produced by another Top Gospel Crooner, Myron Butler. Mann is also set to participate in a promotional tour for the album, so make sure you keep your eyes open for updates on the dates and venues.
Mann's extraordinary career began in the early 90's when she joined future Gospel superstar, Kirk Franklin as a member his platinum selling Gospel music group, The Family. After collaborating with him, she went on to join the cast off of the stage play, "He Say…She Say…But What Does God Say?"
On the heels of her highly received stage debut, her acting career took off as she was tapped by Tyler Perry to appear in his stage play, "I Can Do Bad All By Myself". Mann enthralled audiences with her comedic acting over the years as "Cora" in many of Perry's other hit plays and films.
She then went on to star in the play and motion picture, Tyler Perry's "Meet The Browns", in which she charmed fans as Mr. Brown's daughter, "Cora." Both properties were sure-fire hits, playing to packed theaters and grossing millions.
When Mann is not shooting Tyler Perry's "Meet The Browns", she brings her live musical performances to venues around the country playing to sold-out crowds and is a spokesperson for the American Diabetes Association. Along with her husband, David, she is the co-host of the exciting new TV show, "Hanging With The Manns", which follows the dynamic couple as they cook-up delicious recipes in the kitchen and go on hilariously funny and wild adventures together.