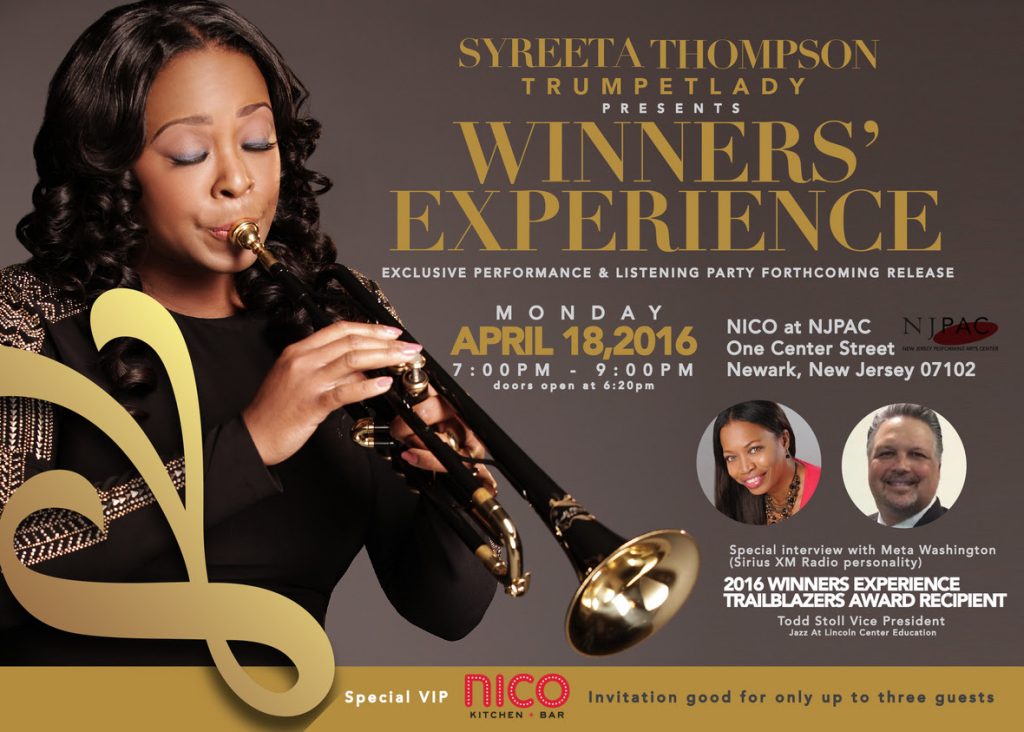 In preparation for the release of renowned trumpeter Syreeta Thompson's forthcoming album "Winner", the "TrumpetLady" will host an exclusive musical experience entitled Winner's Experience on April 18, 2016at the historical NICO at the New Jersey Performing Artist Center (NJPAC), located at 1 Center Street in Newark, NJ. The invitation only, closed event will be held from 7:00 p.m – 9:00 p.m. with doors opening at 6:20 p.m.
Designed to take attendees on a ride through the life and testament of Thompson's musical journey including her studies under the great Wynton Marsalis, Winner's Experience shares the musician's passion for bridging the gap between Christian music, spiritual leaders and the importance of implementing Arts Education.
Thompson and Winner's Experience will honor Vice President of Education at Jazz at Lincoln Center with the 2016 Winner's Experience Trailblazers Award for his remarkable work and dedication to Arts Education and through the Education program at Jazz at Lincoln Center. Under Stoll's direction, the education department's community outreach efforts has expanded and gained great notoriety within New York City for programs such as the Jazz Youth Program on Tour and its online education efforts.
The event will also feature an in-depth interview with Sirius XM Radio personality Meta Washington, where Thompson will discuss the release of her upcoming album Winner and the launch of The Winner's Experience Tour. The tour is designed to help promote and maintain arts education within the academic environment. The tour will also enhance and promote college career readiness through education. Tailored to fit any educational need, each tour is broken down into two experiences: Utilizing trumpet, percussion instruments, a live DJ within the classroom setting and a Master Class with world renowned Trumpeter, Syreeta Thompson.
In addition to the launch of The Winner's Experience Tour, Thompson released her latest single "Change is on the Way" was debuted in January 2016 and features stirring vocals from the Love Fellowship Church Praise Team. This Sunday morning tune is now available on all digital outlets.
Thompson serves as the Arts Education Director for Dorinda Clark Cole's National Singers and Musician's Conference. She is also the Instrumental Music Departmental Chair for Middle School at The Cicely Tyson School for the Performing Arts in East Orange, NJ. Holding this position for eight years, Thompson's passion for the arts exudes to her students as she continues to make music of her own.