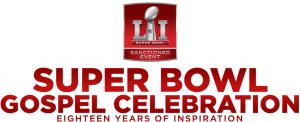 On Friday, February 3, 2017, the NFL Sanctioned Super Bowl Gospel Celebration(SBGC) will kick-off Super Bowl LI with its 18th Annual star-studded music jubilation at Lakewood Church in Houston, Texas. The annual event joins together key NFL Players, top Gospel/Contemporary Christian and mainstream GRAMMY® Award-winning artists and special guests all on one stage to bring audiences an evening of uplifting music and inspirational messages. Tickets are available for purchase through Ticket Master and Ticket Servant.
Super Bowl Gospel Celebration is by far, the largest multi-cultural event to take place during Super Bowl weekend in its 18-year run as an NFL sanctioned event. SBGC has featured artists including Aretha Franklin, Patti LaBelle, Yolanda Adams, Gladys Knight, Natalie Grant, Mary Mary, Fantasia, Donnie McClurkin, Anthony Hamilton, Kirk Franklin, Jacquie Velasquez, Israel Houghton and Marvin Sapp, among many others.
The show is a must see favorite with NFL Players and their families and features amazing testimonies from current and former NFL Players. Hundreds of players participated including: John Elway, Ray Lewis, Emmitt Smith, Tony Dungy, Tim Brown, Devon Still, and more, just to name a few.
The highlight of the Super Bowl Gospel Celebration is the Players Choir. Featuring current and former NFL players, the choir has become one of the most anticipated performances during Super Bowl Weekend. Celebrating its ten-year anniversary, the choir made its debut at the 2008 show with more than 40 members.
"We founded this event to bring even more inspiration and celebration to one of the biggest events of the year – the Super Bowl," says Melanie Few-Harrison, Creator & Executive Producer of Super Bowl Gospel Celebration. "Each year we aim to touch lives in a meaningful way and make the Super Bowl Gospel Celebration bigger than the last with artists and special guests. We look forward to kicking off Super Bowl 51 in Houston and making our mark as the best most uplifting event we've had in our 18-year history!"