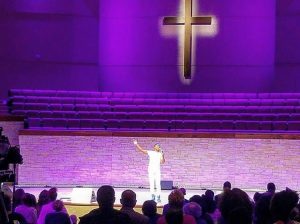 Stephen Brown, the latest artist signed to Lunjeal Music Group, has hit the promotional road with his debut single, entitled "Blessed Man." The single, penned by Allen Carr – head of Lunjeal Music Group and songwriter of many of the most poignant and prolific songs in recent years – is an infectious declaration of what it means to be a child of God. 
"Blessed Man" serves as a musical introduction of Brown to the world, as it aptly describes his lifelong relationship with, and calling from, the Lord. Additionally, echoing the sentiments of Deuteronomy 28:3, which states, "You will be blessed in the city and blessed in the field," the song is not only Brown's testimony, but that of each and every person walking in the ways of Christ Jesus.
The song is a clever musical mélange, made up of all of the genres that make up the eclectic fabric of Brown's Tennessee roots and upbringing. It features an easy quartet vibe, a laid back, singable, hip-hop hook, and an undeniably catchy Southern Gospel track. 
Recently, Brown was a guest at Concord Church in Dallas, TX, and ministered "Blessed Man" for the first time in the Lone Star state. The response was overwhelming. By the end of the song, everyone in the congregation was on their feet, singing along with Brown, and joining him in the acknowledgment and affirmation of the many blessings in their lives. At the song's end, Brown received a standing ovation from the enthusiastic crowd of worshippers. The scene gave Brown a prophetic glimpse of exactly what he believes God intends to do through him and the song. 
Brown believes that now, more than ever, the people of God must boldly profess the benefits of following Christ, even in the face of adversity. Particularly in these times of political turmoil, climate instability, and financial uncertainty, it is paramount that we lift our eyes, our focus, and our praise, toward the heavens. Even if everything is not as we'd desire it to be, we are indeed blessed by God, and must assume a posture that reflects such. 
"Blessed Man" will be available wherever digital music is sold, this Spring. It is more than a song. It's a movement. It's a call to arms for the army of the Lord, and Brown is our newest appointed General, leading the way.