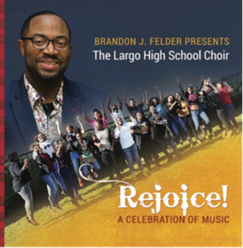 Prince George's County Maryland's Largo High School is well-known throughout the state and the country for its excellent music program. Stellar Award Winner & Gospel Pioneer Phillip Carter saw the talent in the school's choir when he signed them to his label, SOV Ministries, Inc. Last fall, the choir released its debut CD, Brandon J. Felder Presents The Largo High School Choir: Rejoice: A Celebration of Music, a collection of seasonal and perennial Gospel favorites. Not only has the project been catching the attention of the DMV area, but the nation is sitting up and taking notice as well. The CD just soared up the Billboard Top Gospel Album Sales Chart to #7. In addition to the Gospel chart placement, the project also debuted at #21 on the Billboard Christian & Gospel Albums chart at #21 and on the Heatseekers Chart at #4, a chart that highlights CDs making major moves in multiple genres. Those interested in hearing what others have been experiencing can purchase Brandon J. Felder Presents The Largo High School Choir: Rejoice: A Celebration of Music on BuyGospel.com and other digital music outlets.
Carter is thrilled about the project's success and feels that it highlights the great talent that is in our schools. He says, "I am really proud of Brandon Felder and these wonderful kids. It was an honor to help them achieve the goal of recording a CD. They are multi-talented and did a great job on this CD. I think it's important for folks to know that there are some great things happening in Prince George's County and at Largo High School."
Felder was excited about the project's release and the charting as well. "I am really grateful for the privilege to serve and lead such a favored group like the Largo High School Choir. It makes my heart Rejoice when I think of what the Lord has done in such a short period of time here at Largo High School. It's humbling that a High School choir has reached a national music billboard chart but to chart at number #7 on the charts is a true testament of the inordinate and sundry talents that walk these halls here. Saying that I am proud of what we've presented seems so completely inadequate. The sensitivity, musicianship, artistry, variety and poise presented on this project were a great authentication of the work that the students have done and the God given talents that we have been entrusted. I'm thankful for Pastor Jeremiah Murphy, who laid the foundation and for entrusting me in this next season at Largo. For those who have not listened to our students, I urge you to enjoy and become inspired through our music. And again I say Rejoice!!"
The CD is a rousing collection of familiar inspirational songs spanning multiple genres like Gospel, classical and jazz. Featured on the 15-track release are holiday tracks like "O Come Let Us Adore Him", "A Child Is Born" and "The Christmas Medley". Making sure to include music for every season, the project also showcases songs like "Bless The Name of Jesus", "Jesus Be Exalted" and "Receive Our Praise".  Felder, a magna cum laude graduate from Howard University with a Bachelor's Degree in Music Education with Piano Emphasis and Associate Minister of Music at Reid AME Church North in Silver Spring, MD, is the director of Choral Activities and Piano Studies at Largo High School. The school has seen its share of notable appearances and accolades and was recently named a GRAMMY Signature School Enterprise Award Semifinalist.
Those in the Washington, DC, area can experience the choir up close and personal this weekend. In celebration of these students, they will be holding their official CD Release and Winter Concert on Sunday, December 17, 2017, at 6pm the Kennedy Center for the Performing Arts. This free concert will feature Vocal and Instrumental Music, Dance and Narration performances of Largo High School students and will also include students from their community feeder elementary and middle schools such as Kettering, Lake Arbor, Earnest Just, Walker Mill and Greenbelt. Felder invites music lovers to join in celebrating these music students as they strive towards artistic excellence in a historic venue. Admission is free and doors open at 5:30pm. For discounted parking passes, please email [email protected].